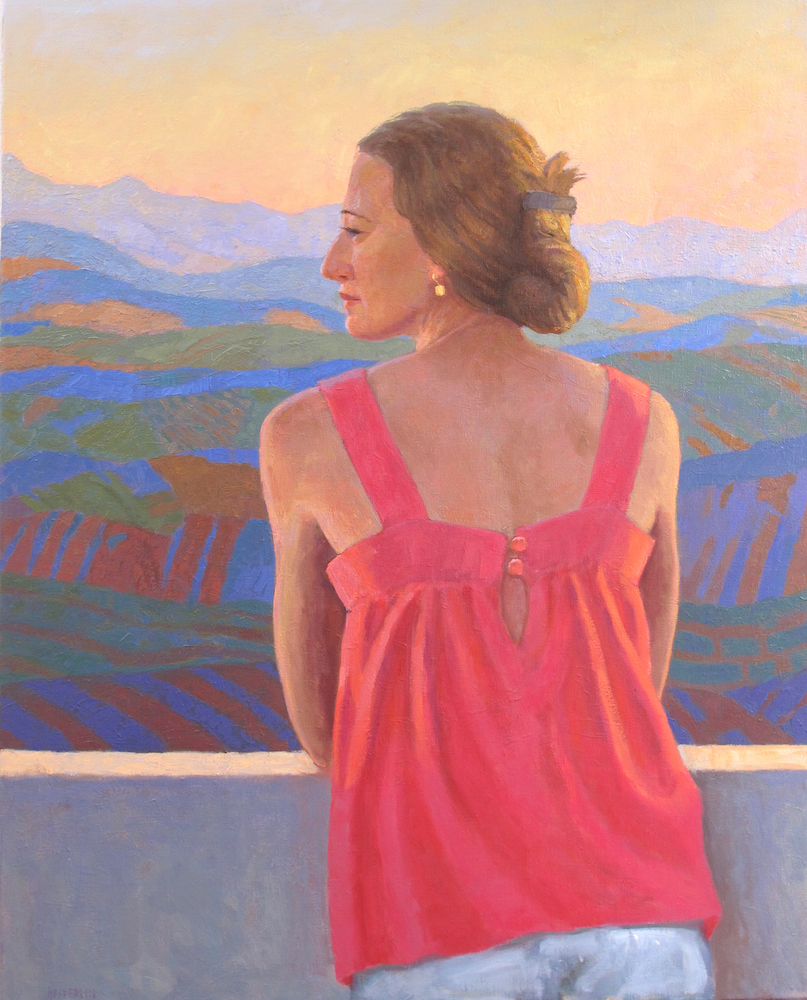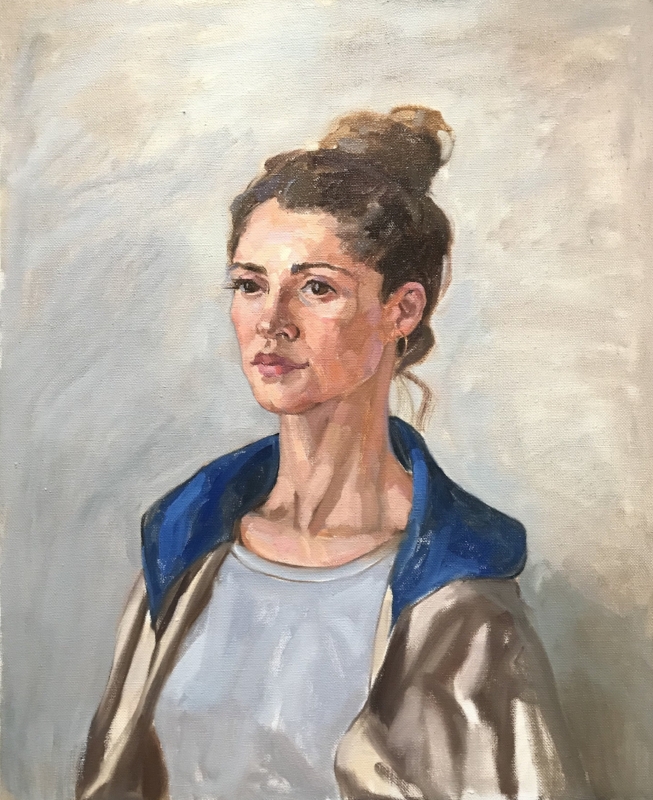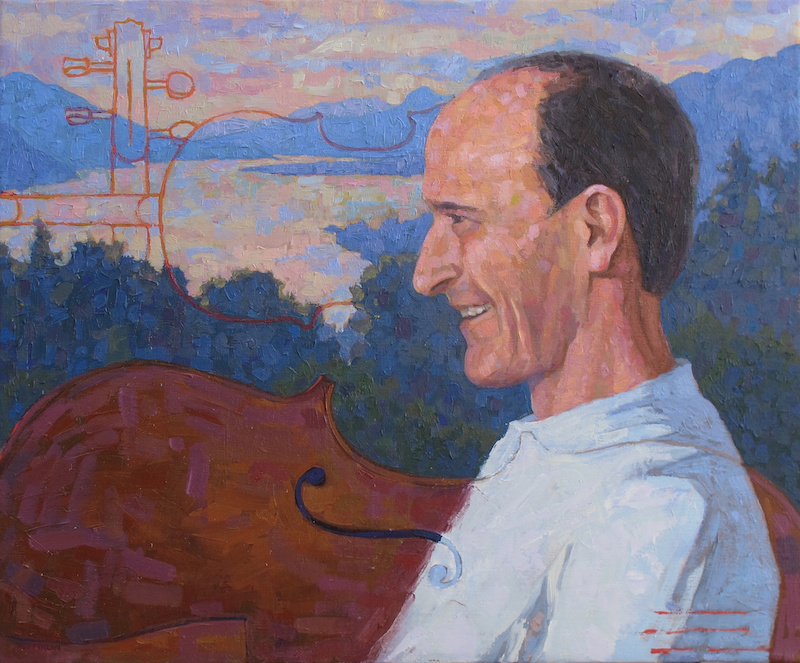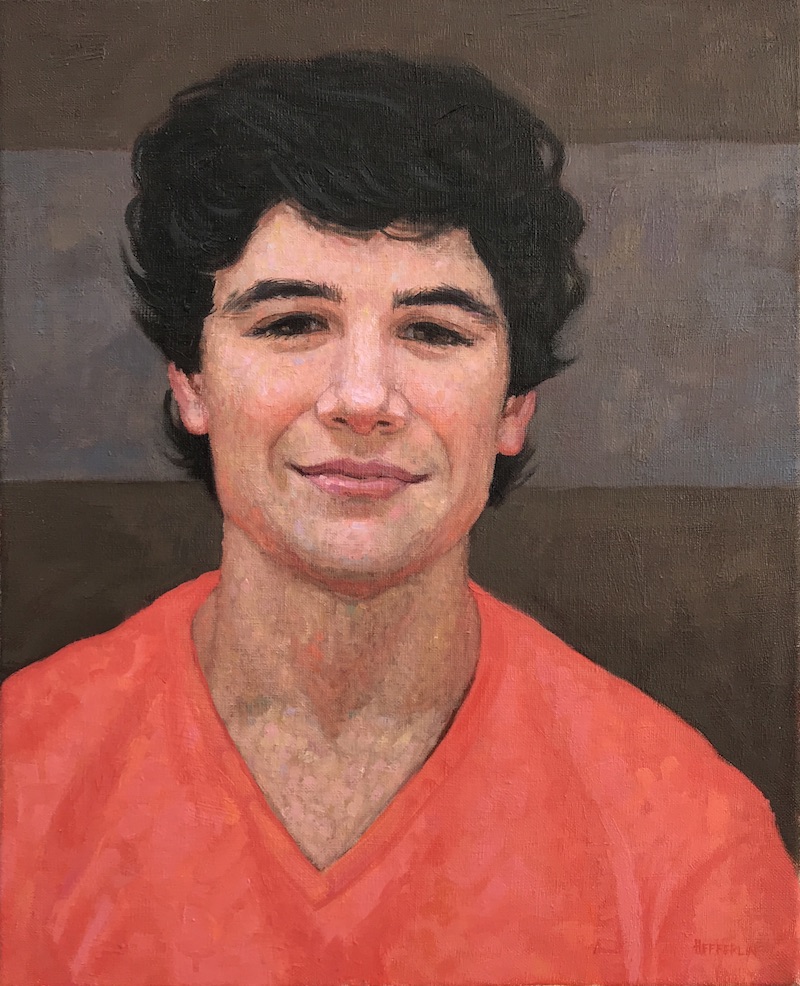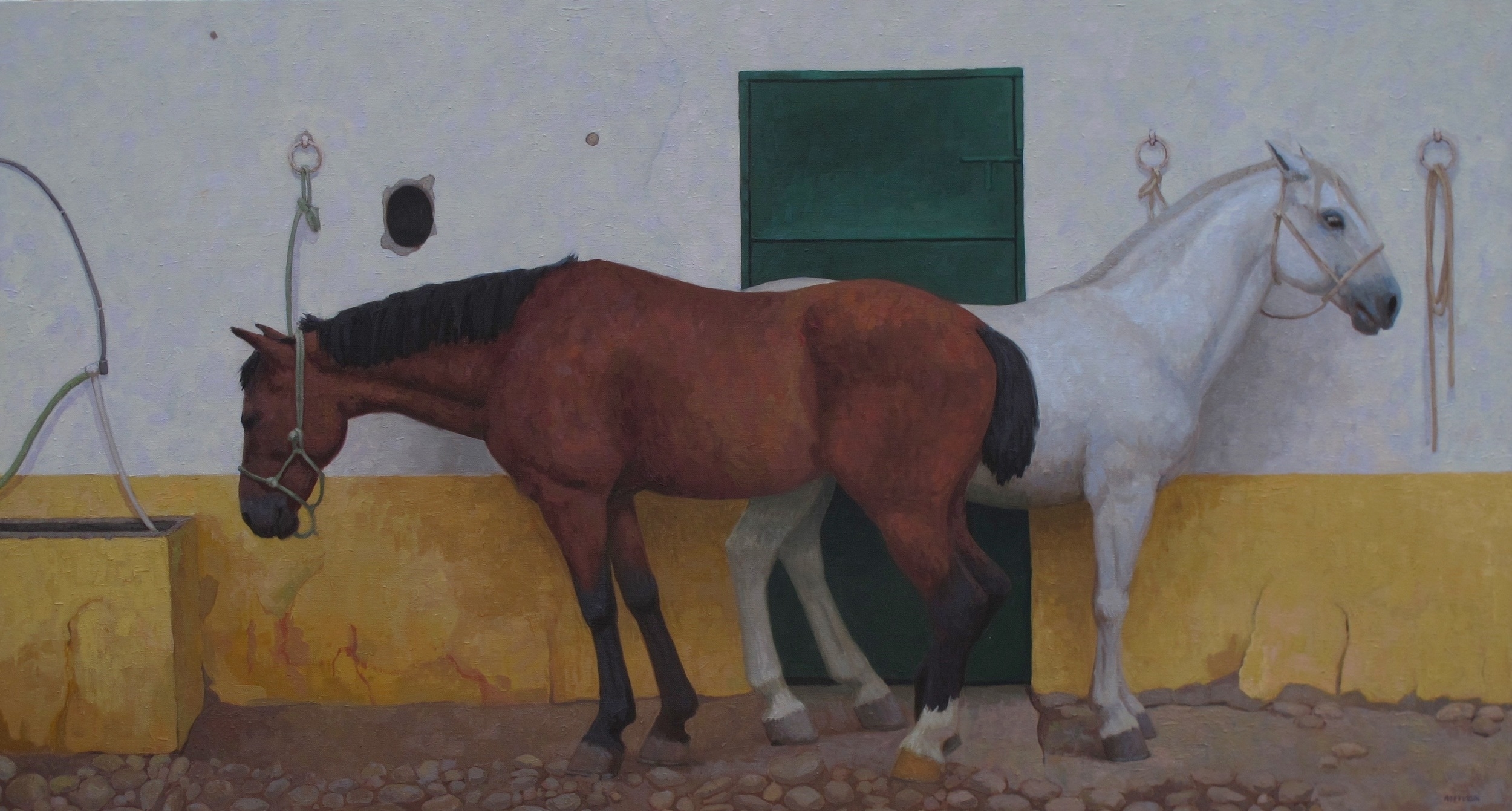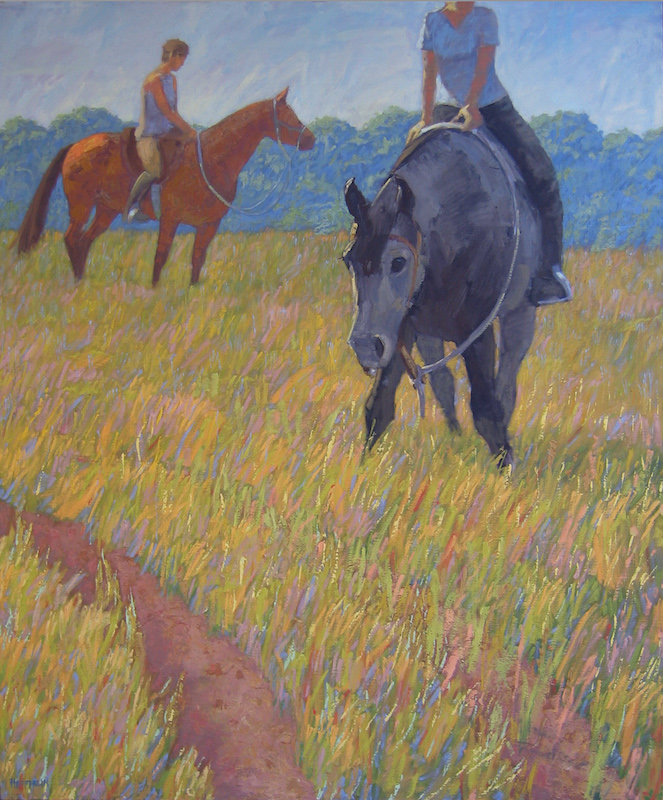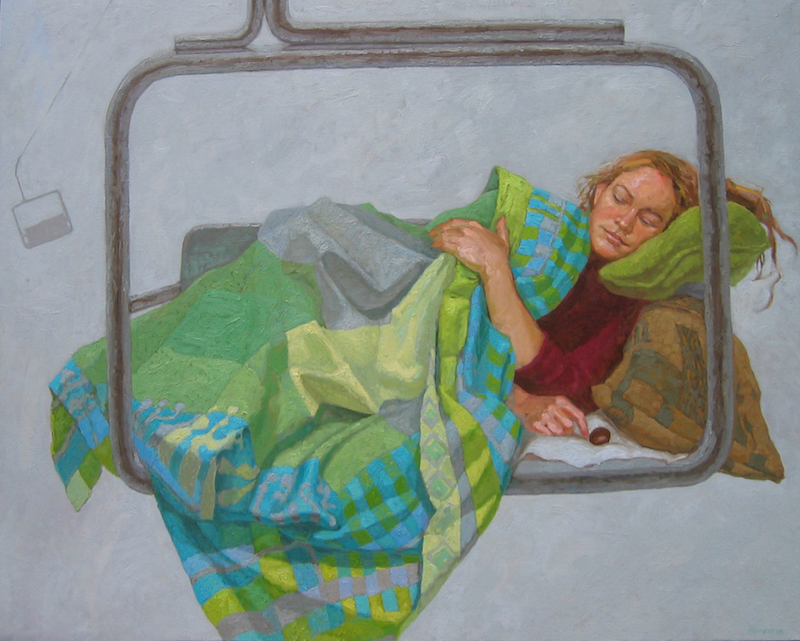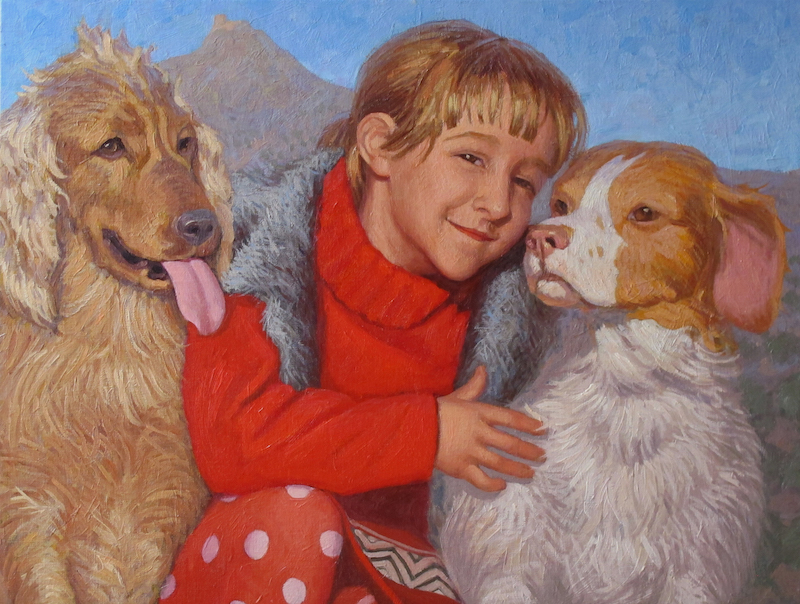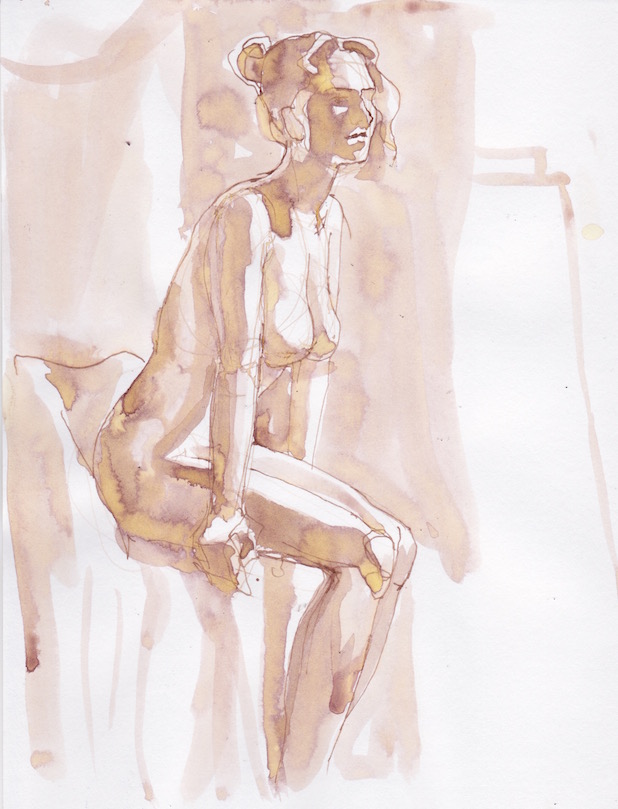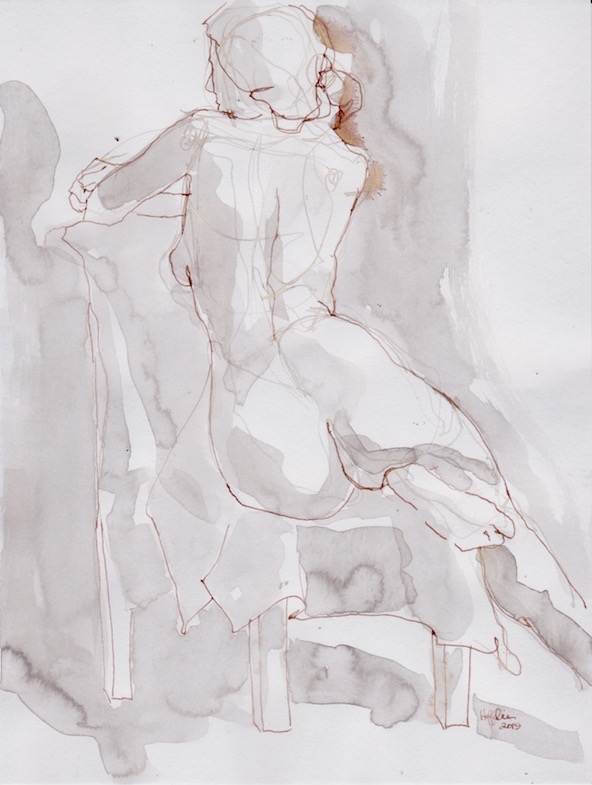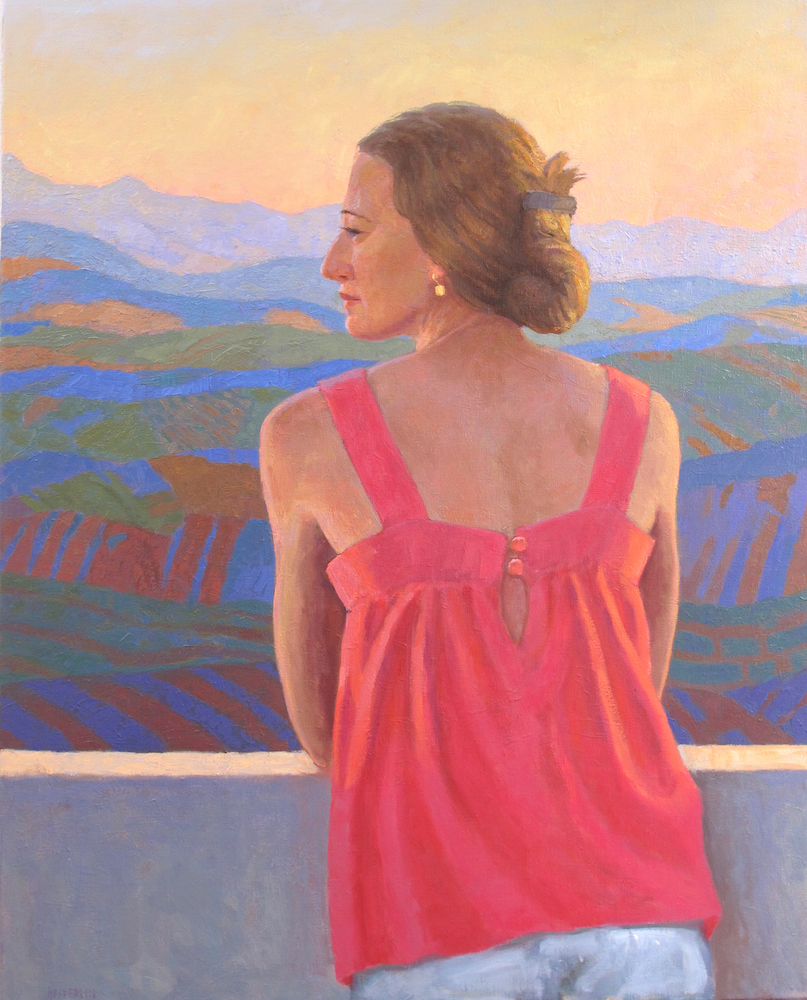 Point of View
Oil on Linen / 36 x 29 in / 2017
Brie Stoltzfus visited our Spanish village for much of 2017, and I was attracted to her sense of elegant serenity. She and her husband, artist Caleb, inhabited a home with a fantastic roof terrace, and a composition was born. I enjoyed abstracting the pastoral landscape. The hours spent together at sunset I'll never forget.
Available at Cutter & Cutter Fine Art
Portrait of Victoria Kalaichi
Oil / 48 x 36 in
This brave young artist came to Spain to paint with me when we were still strangers. Her work inspires me with it's saturated, elegant color. On the easel is her oil sketch of me. Behind her lies an abstraction on one of her most lovely still life paintings.
Helene Hayman
Oil on Belgian Linen / 2016
Young filmmaker Helene Hayman came to us for the Autumn from Denmark. The creative discourse has proven alchemical. I wanted to portray her scanner-like gaze and regal bearing, and thought she was just the character to hold her own against four meters of crimson silk velvet. Hopefully this piece will be going to OPA Nationals in Colorado.
Available
Sunny Side of Life
Oil on Linen / 20 x 25 inches
A new commissioned piece fulfilling a request which read, "A painting with horses and a field of sunflowers." I composed this image from a ride in Southern Spain with two best friends, Clara and Laura, and their horses (also best friends) Hierbabuena and Cariñosa. The glowing orb is not a setting sun (see the cast shadows) but the rising harvest moon.
Private Collection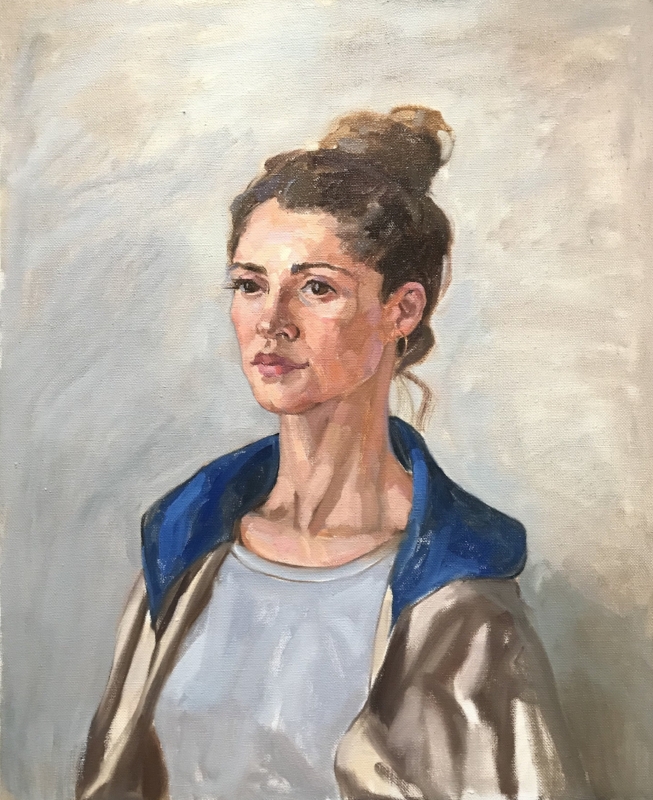 Victoria Kalaichi
Oil / 30 x 24 in approx
This wonderful young artist and her husband came to paint with me in Spain, and we painted one another's portraits. I had about 3 hours for the image. I loved her chiseled features and expressive eyes. With such little time the painting is little more than an impression, but one I enjoyed creating very much.
I recommend you research her work.
Collection of Ms. Kalaichi
Portrait of Debbie Petticord
Oil on Linen / 20 x 16 inches / 2017
One of an artist's great pleasures is painting the portrait of someone beloved and well known. Debbie and I have been friends since I was sixteen. I have always loved her wearing the color blue, and here I literally bathed her in the royal color. Painting her and thinking of years of friendship reminded me of a beautiful quote about female friendships. "This is what they had always done together. The necessity of saying it out loud. Talking for the sheer pleasure, the hilarity. To be witness to the stunning accumulation of a life." - Victoria Redel
Private Collection
Portrait of a young girl
Oil on Canvas / 12 x 12 inches / 2017
I met this astonishing girl on a recent trip, and I remain charmed by her radiant spirit. I had to attempt a portrait.
Available
She Saw the Way
Oil on Wood Panel / 8 5/8 x 6 1/4 inches
My friend, Laura Rodriguez in Olvera, Spain.
Available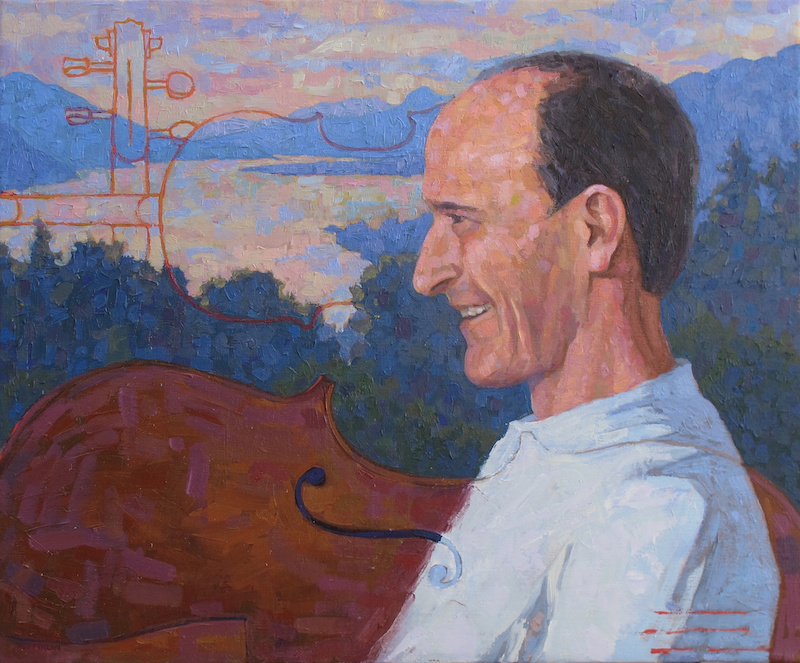 Stefan, the Lake and the Music
Oil on Linen / 20 x 24 inches (51 x 61 cm) / 2015-2016
A portrait representing integration of location and the arts, music in particular, into the character of an individual.
Private Collection
Begoña Fernandez Suarez
Oil on Linen / 12 x 12 inches
Painting Begoña's portrait gave me great pleasure because her character is so radiant on her face, and because she is a truly beautiful woman.
Collection of the Amez Fernandez Family
Hector Amez
12 x 12 inches / Oil on Linen
The highlight of the summer 2015 was painting portraits of the Amez family, close friends. Such expressive subjects are rare for an artist, and I thank them.
Amez Family Collection
Theo Amez Fernandez
Oil on Linen / 12 x 12 inches
Though young, Theo has the reasoning skills of an accomplished trial lawyer, and a great zest for life. He has no timidity towards his elders. I wanted to capture his sense of individuality, which resulted in a portrait which seems slightly older than his current age. He'll grow into it.
Amez Fernandez Collection
Irene Amez Fernandez
Oil on linen / 12 x 12 inches
This lovely woman excels in school and music, and has one foot in childhood, and one foot firmly in adulthood. It's a beautiful and difficult age to capture.
Amez Fernandez Collection
Offerings
Oil on Linen / 33 x 22 inches
 
Dana, the artist's niece from Ingushetia, with the lemons she'd picked off the studio tree last summer.
Available
Taylor Uren
Commissioned portrait in oil
20 x 16 inches
2017
Designed to hang as a matched set with the sibling portrait, but to stand alone as well.
Private Collection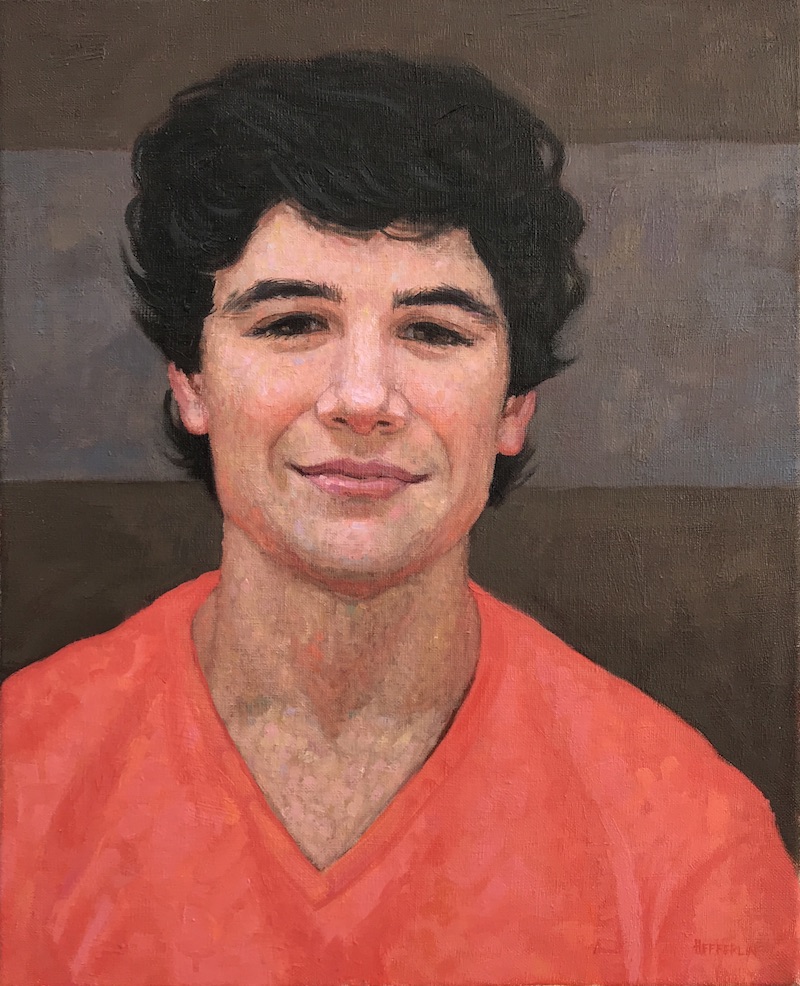 Peyton Uren
Commissioned Oil on Linen portrait
20 x 16 inches
2017
Designed to hang as a matched set with the sibling portrait, but to stand alone as well.
Farmflight
Oil on Linen / 72 in x 72 in
An expression of pure happiness, this monumental painting came out of a dream about flying over the farms of East Tennessee.
Available
Sevillanas and Stallions
Oil on Linen / 73 x 39 inches
In the villages of Andalusia there are a few skilled couples who are able to perform a version of flamenco dance with Andalusian stallions. The performance is astonishing and archetypal when done well. Here, with Marta Barosso Fernandez and Ismael Martin.
Available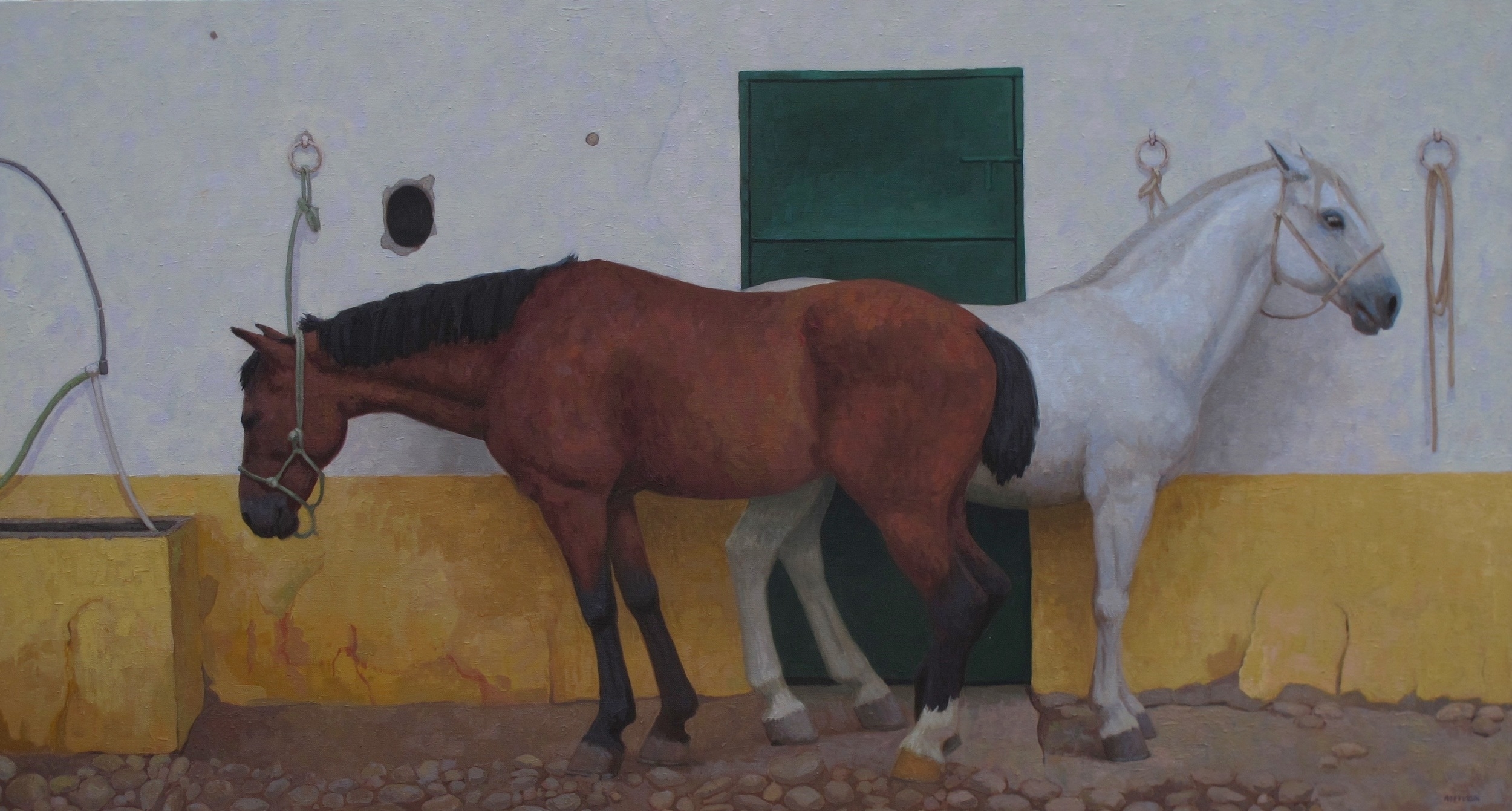 Andalusian Dreaming
Oil on Linen / 39 x 78 inches
A group of about ten friends rode all night under a harvest moon through olive groves in the mountains of Cadiz province, Spain. At four in the morning we stopped at a hacienda to rest the horses and set up a bbq. These were two of our steeds, resting quietly at dawn.
Available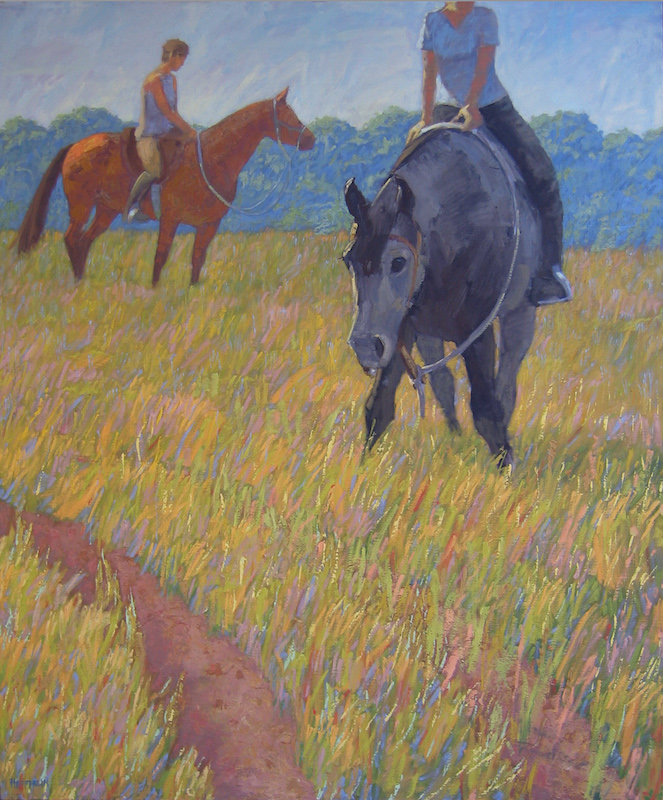 Path
Oil on Linen / 72 x 58 inches
There is an equestrian park in East Tennessee where you can ride horses on the Cumberland Plateau. Here Marie Miller takes her colt Jasper for the first time. I wanted the sensation of the golden hours of late summer with friends. The experience was all about the young horse's curiosity.
Available
Clara
Oil on Linen / 35.5 x 26 inches
The dancer painted is a friend of the artist, a student of veterinary medicine in Seville. She also dances flamenco, and is an accomplished equestrienne.
Available
 
Learning the Steps
Oil on Linen / 60 in x 48 in
Most Andalusian village houses have rooftop terraces. Marta Barroso Fernandez teaches Clara Olid some steps to a Sevillana dance on top of the studio.
Available
Andaluza
Oil on Linen/ 36.5 in x 30 inches
Portrait of Clara Olid Jurado: flamenco dancer, veterinary medicine student, equestrienne.
Available at Cutter & Cutter Fine Art
After the Morning Workout
Oil on Linen / 39 in x 78 in

A morning at the Royal Andalusian School of Equestrian Art, Jerez de la Frontera.
FINALIST - American Women Artists' Association Spring Exhibition 2016
Available
Sunday
Oil on Panel / 6 x 8 inches
In Andalusia during summer, afternoons near water are a matter of survival.
Private Collection, Andalusia, Spain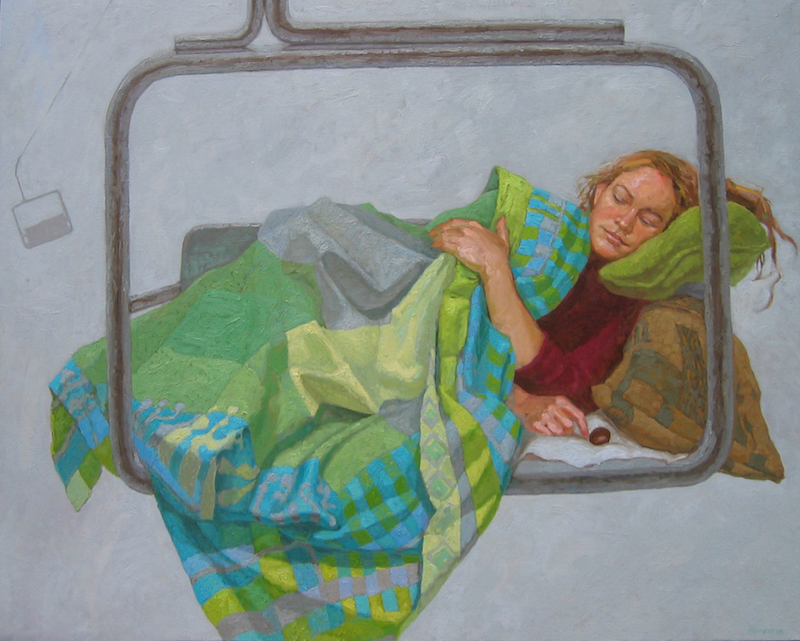 One Perfect Chestnut
Oil on Linen / 48 x 60 inches
One day in southern Switzerland I rode a chair lift in summer to the top of an alp. I was with an old friend. We were enveloped in impermeable fog, and the sensation of peace was unforgettable. It felt like a refuge. This was October, and it was Chestnut season. I posed my friend, Sheri Peck, to recreate the sensation.
Private Collection, Kentucky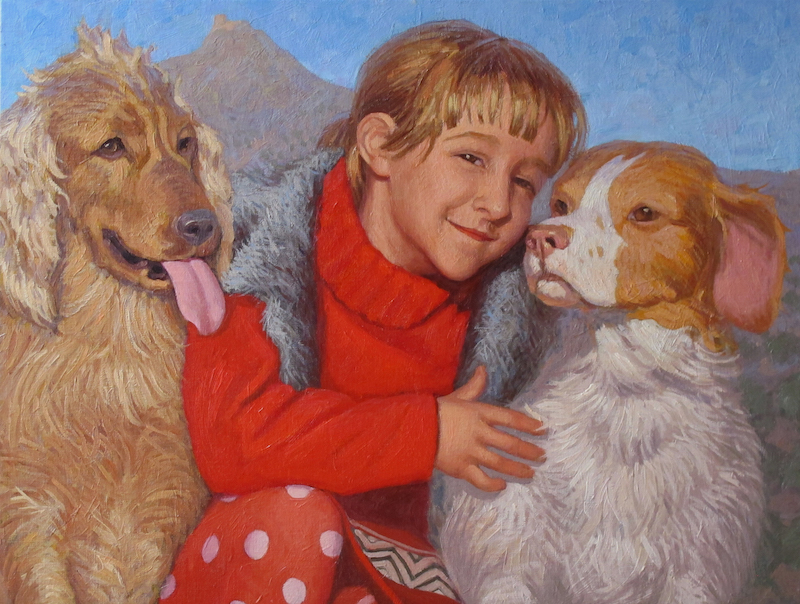 Rebecca with Rosie and Charlie
Oil on Linen / 20 x 24 inches
The delightful daughter of friends with her enthusiastic dogs on the Via Verde, in Andalusia.
Private Collection, Spain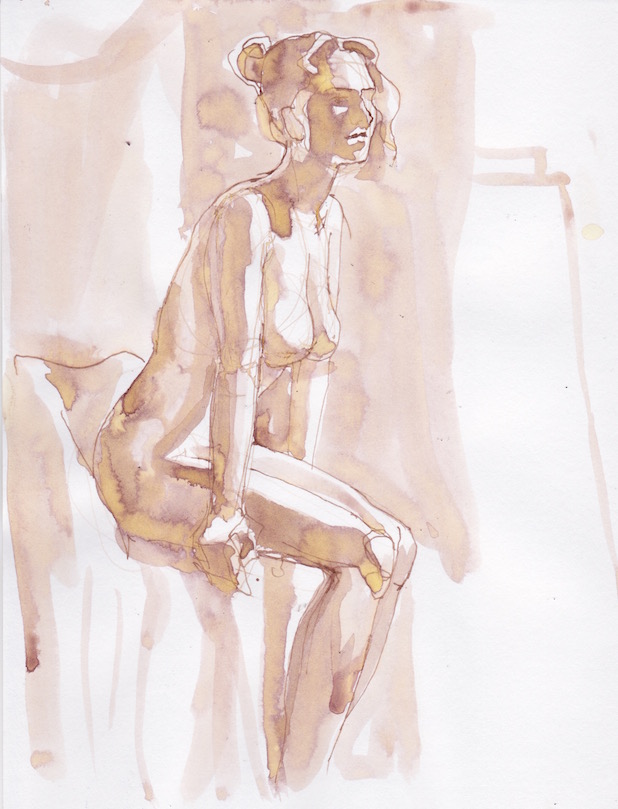 Figure Sketch #7
Pen and Ink, Ink Wash on Paper / 11 x 8.25 inches

The ink I used was Windsor and Newton "Nut," or maybe "Walnut." The ink surprised me. When thinned with water into washes, the color separated into brown and ochre. I liked the benevolent accidents.
Private Collection, Maine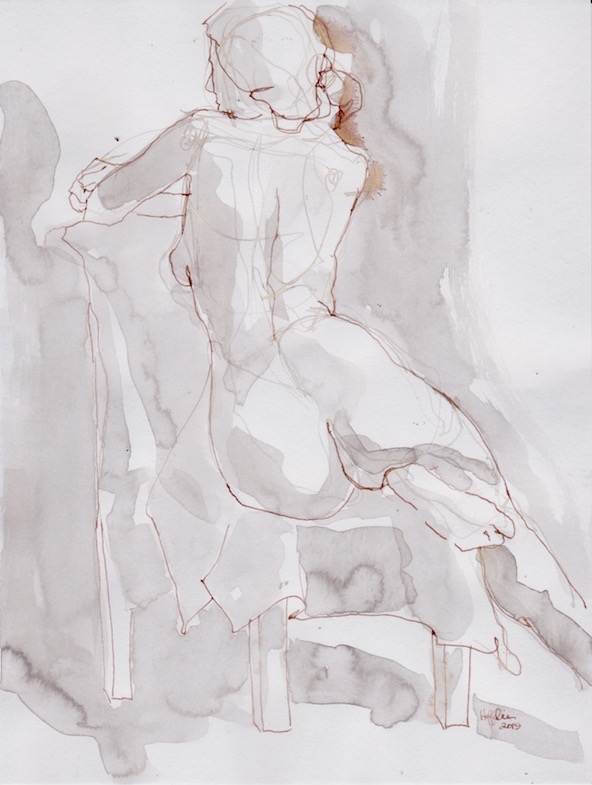 Figure Sketch #2
Ink and Ink Wash on Paper / 11 x 8.25 inches

While in St. Petersburg we were invited to join a small group of old friends who hire a model every Wednesday evening. Amazing models, great fun. I enjoyed experimenting with ink.
Available