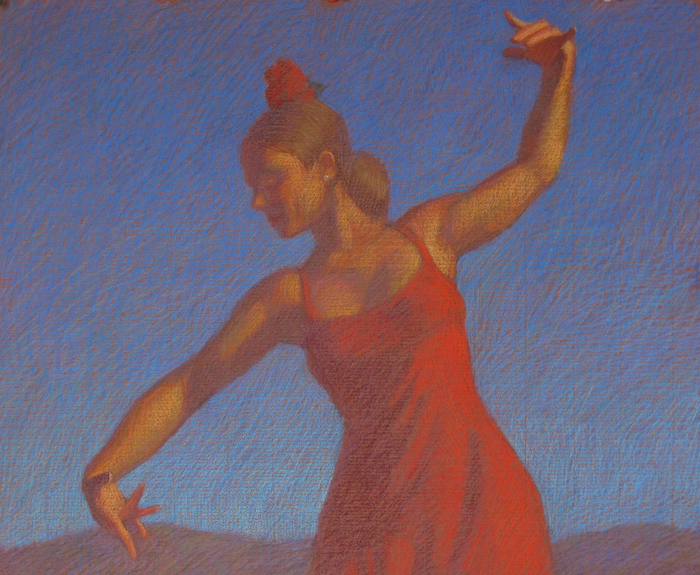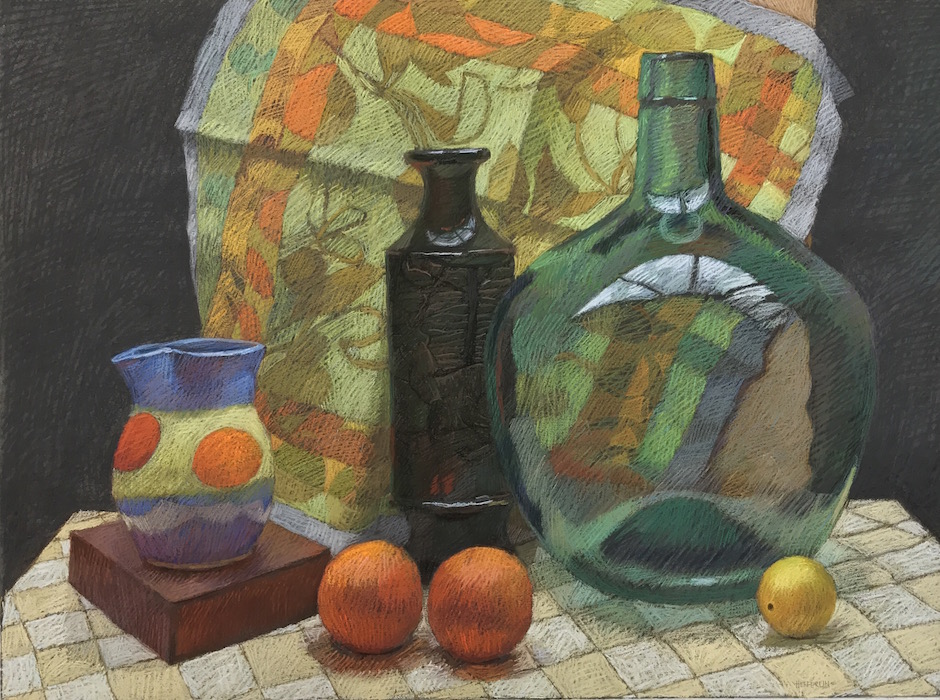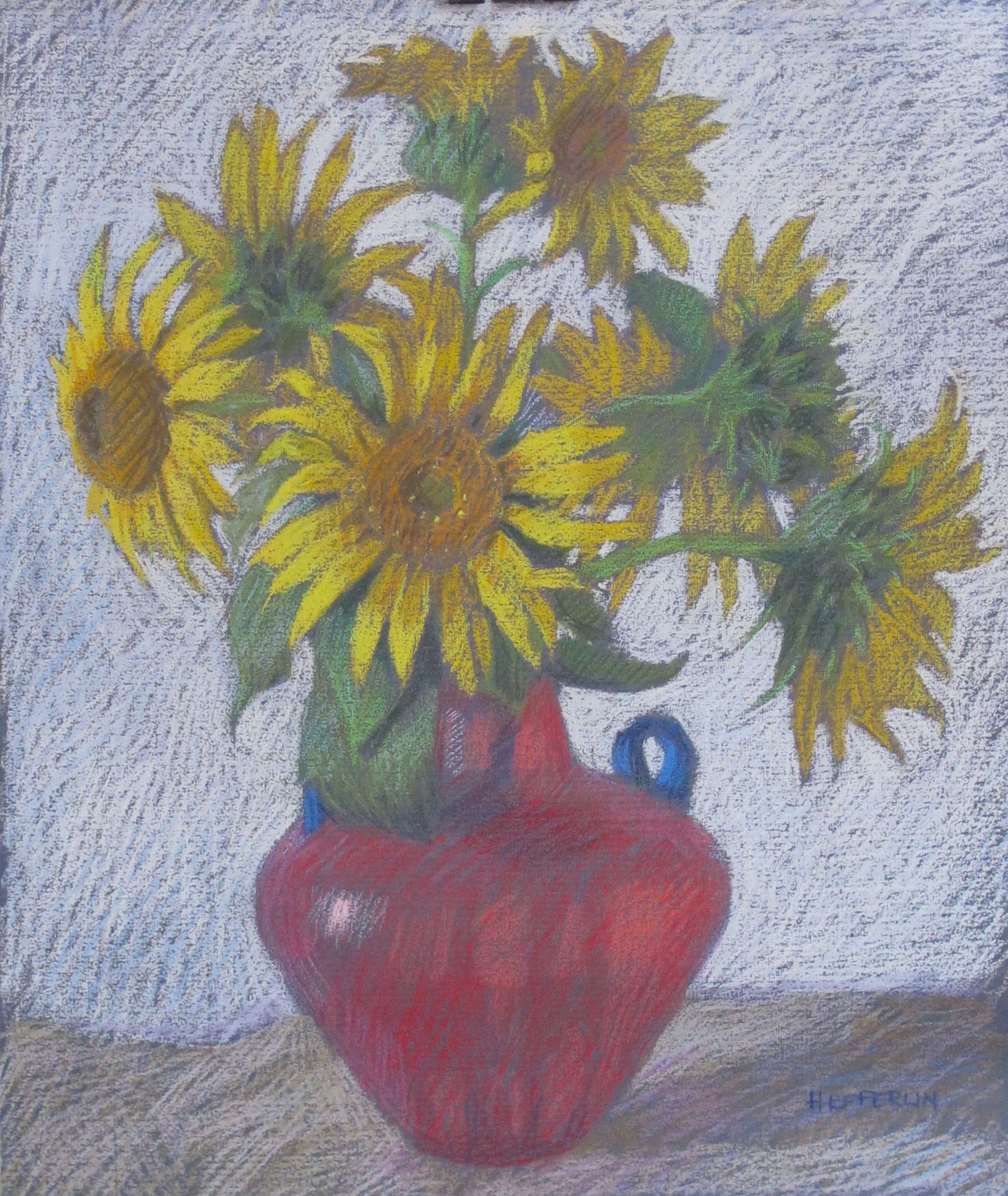 Tea with Lemon
Soft Pastel on toned Rives BFK paper / 15.75 x 16 inches / 2018
Available
The Blue Teapot
Pastel on Paper / 22.5 x 37.5 inches
In this pastel I was interested in the call and response of the color red around the composition, and also to challenge myself with pattern.

Available at Cutter & Cutter Fine Art
In the Night Kitchen
Pastel on Paper / 13 x 12 inches
Using strong electric light offers dramatic cast shadows, the one thing I miss when I paint by indirect daylight. Here the magenta and khaki teapot shadow is theatrical, ominous, charming. The butterflies in the background tapestry are almost completely incognito.
Accepted to the International Pastel Artist Biennial, Oviedo Spain 2018
Available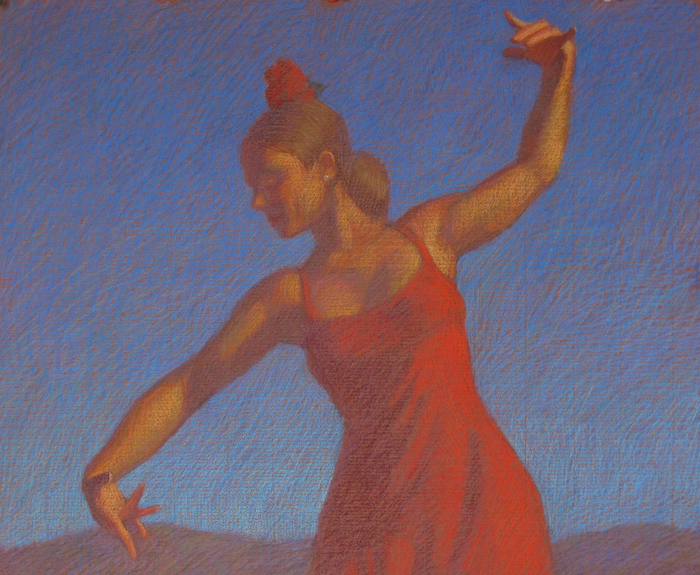 Andalucía
Pastel on Roma Paper / 23.5 x 19.5 inches
In the way that a figurative sculpture of a specific woman is used to represent Spring, or Liberty, I employ Marta Barroso Fernandez to embody the spirit of Spanish Andalusia. The women of this region astonish me: strong and practical, yet capable of dazzling glamour. Family oriented and loving, but fiercely independent.
Private Collection Tennessee
Kazakh Tea Party
Pastel on Paper / 16 x 22 inches
This composition of bright colors anchors on the lemon, without whom everything falls into chaos. Silver from my grandmother, tapestry from Kazakhstan or Uzbekistan.
Selected for the International Pastel Biennial in Oviedo, Spain by ASPAS 2018.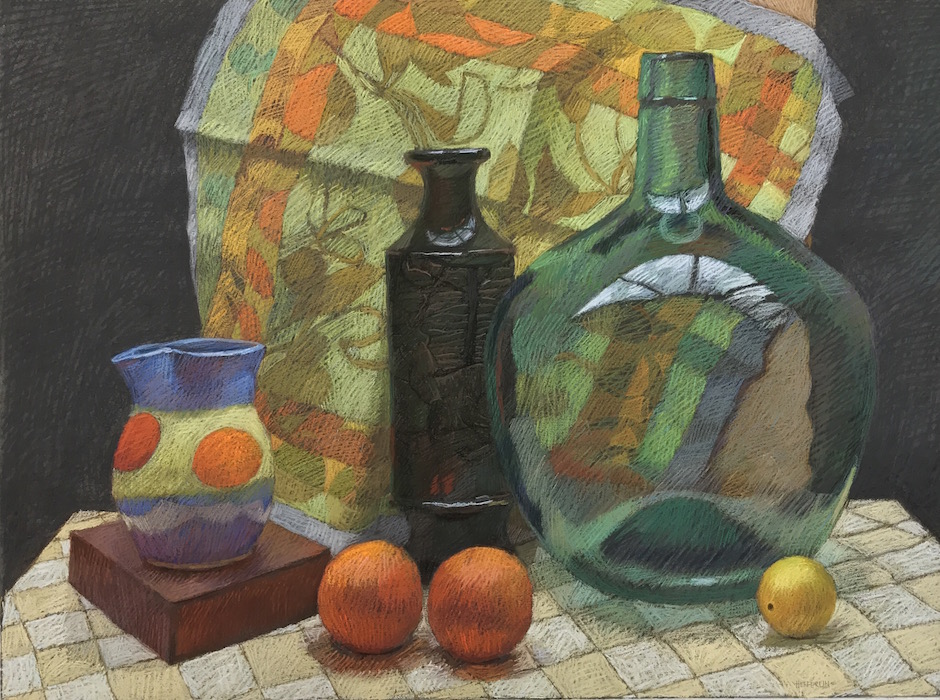 Oranges Real and Reflected
Pastel on Paper / 22 x 30 inches
Winner of the Award of Excellence, Pastel Society of America National Exhibition 2017, Winner of the Mini-Monty Award, Pastel Society of American National Exhibition 2017, Board of Directors' Purchase Award, same exhibition.
My first artwork of 2017. Private Collection.
Oranges Real and Reflected, II
Pastel on toned paper / 22 x 30 in
I so loved the color in Oranges Real and Reflected, that I had to reorganize for a second go.
Available
Lola Zambrana
Pastel on Canson Paper / 25 x 19 inches
I wanted to paint a woman holding some part of herself in reserve, instead of a portrait where the sitter offers their entire self to the viewer. The large cast shadow also represents the portion of the sitter's life withheld. Pastels are a very difficult medium in which to paint portraiture when the head and hands are this small, but the project proved most enjoyable, mostly thanks to Lola.
Globe
19 x 12.5 inches / Rembrandt and Sennelier pastel on Canson paper
My Swiss aunt gave me three of these hand-blown glass globes, and lately they've been asking to appear in my paintings.
Available
The Flying Armada
Pastel on Canson Paper / 25.5 x 19 inches
The winged rabbit drives his "ship" and the other objects forward in a strong wind toward adventure. While being of course concretely realistic, I thought of the painting's structure as a Diebenkorn painting, and the emotional theme as whimsical travel.
Debuted at the Pastel Museum in China, Available
Flying Changes
19 x 25 inches/ Pastel on Paper
Viviana practices lead changes on one of the magestic stallions at Epona Spain, near Seville.
Available
Jester
25 x 19 inches / Pastel on la Carte paper
A finished portrait from life of model Morgan Williams costumed with hat and beads. I especially enjoyed the color spectrum in her blonde hair, and the honesty of her young gaze.
Available
Flight of the Butterflies
11 x 16 inches / Pastel on Fabriano Roma paper
Near Anghiari, Italy, I bought the brocade table cloth with butterflies, and have been captivated by it ever since. It chose its own friends in this still life with Spanish lemons.
Mi Sombrero
25 x 19 inches / Rembrandt pastels on Paper
Tatiana Barroso Fernandez dancing a piece of choreography from Cadiz with a black sombrero, in Olvera, Spain.
Available.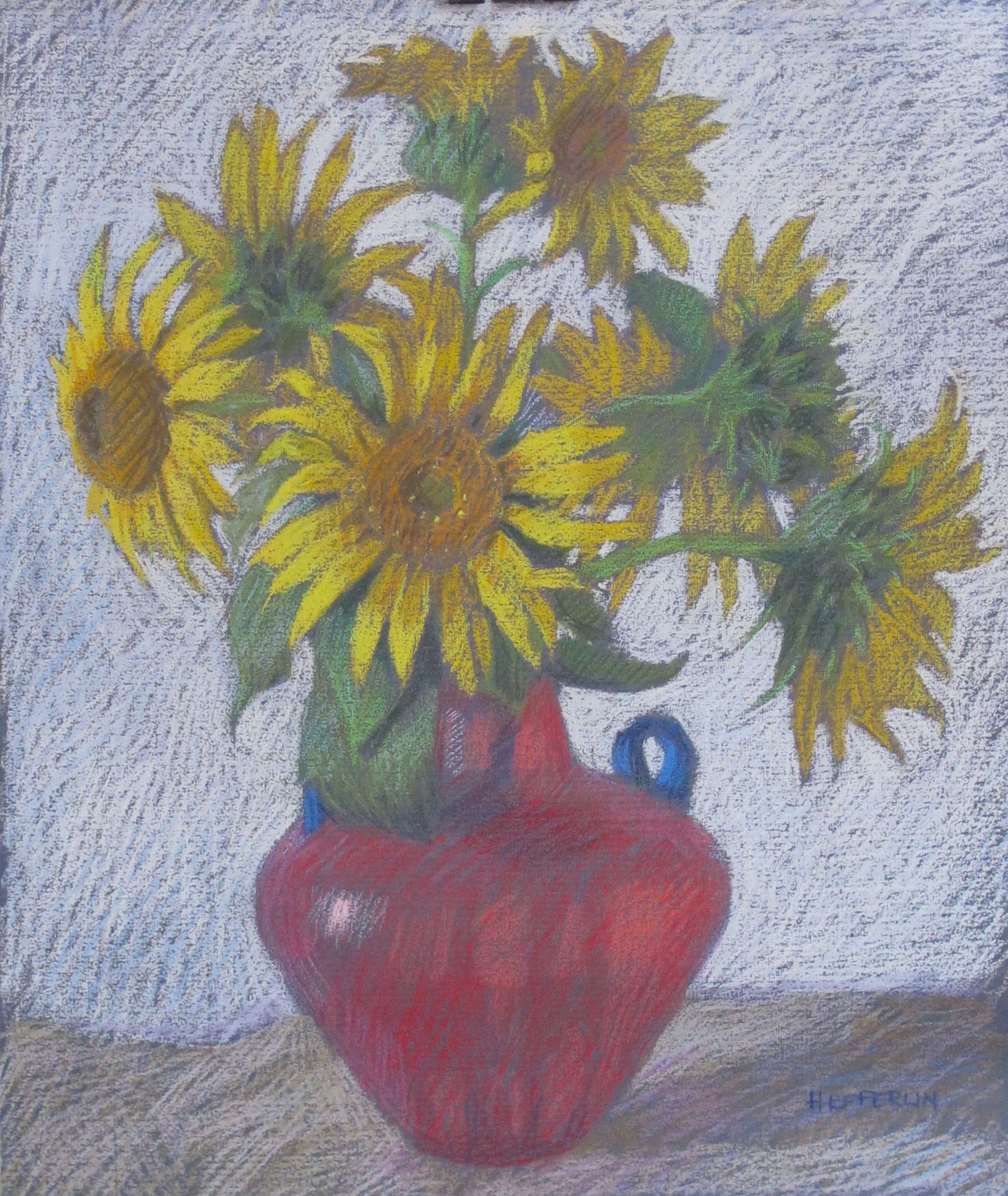 First Sunflowers in a Venetian Vase
Pastel on Roma Paper / 18.5 x 15.5 inches
I picked these sunflowers on the side of the highway in December in Andalusia. They filled me with thoughts of summer.
Available.
The Russian Headscarf
25 x 19 inches / Pastel on la Carte paper
A self-portrait, this pastel won the Salmagundi award at the 2007 Pastel Society of America national juried exhibition. The "babushka" scarf I brought as a keepsake from the drapery stashes at the Russian Academy in St. Petersburg in 1991.
Collection of Cynthia Nesson and Bruce Simonson
The Sculptor
25 x 19.5 inches / Pastel on Paper
This portrait was a fairly fast demo portrait of sculptor Maria Willison for a pastel class in Tennessee. The sculptor refined a miniature figure during the 2-day course.
Family
25 x 19 inches
Pastel on la Carte paper
Piglets and sow from the Wilhoit farm in Apison, Tennessee. Private Collection, Tennessee
Winter Still Life
Pastel on Paper / 12 x 19.5 inches
Lemons ripen in winter, and their annual arrival brings me joy. I grouped three together, and one off to the side, like children on a playground looking each other over.
Available.
Torso on Blue
Pastel on Pastel Paper / 22 x 30 in
When in Chattanooga I enjoy the figure drawing evenings at Townsend Atelier.
Available
Make a Wish: Balance
Pastel on Paper / 50 x 38 inches
I seldom paint from my imagination. This is an allegory depicting the tension between the desire for strong social ties and support, and the desire for autonomy. Here the model, loosely a self-portrait, finds the structural comfort of bonds without being actually bound.
Private Collection Alabama USA
Tom Cat Trilogy III
Pastel on Paper / 24 x 24 in
Commissioned feline portraits provided enormous fascination for me. This is the last of a trilogy.
Private Collection, Tennessee USA