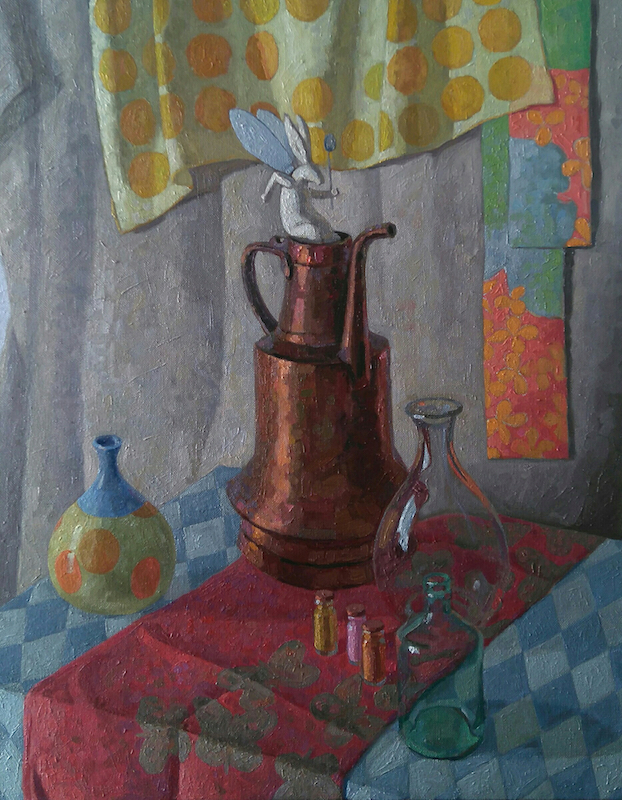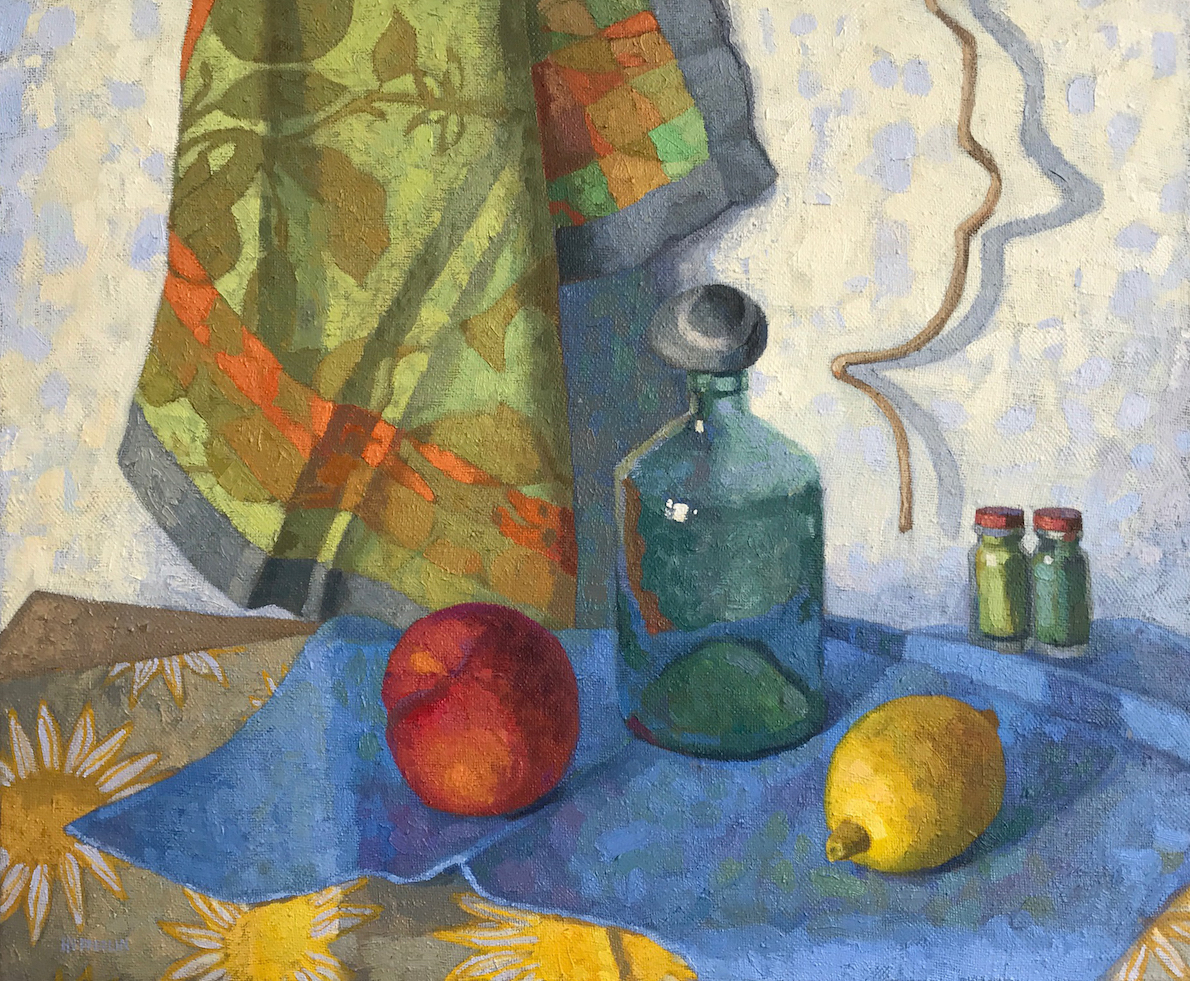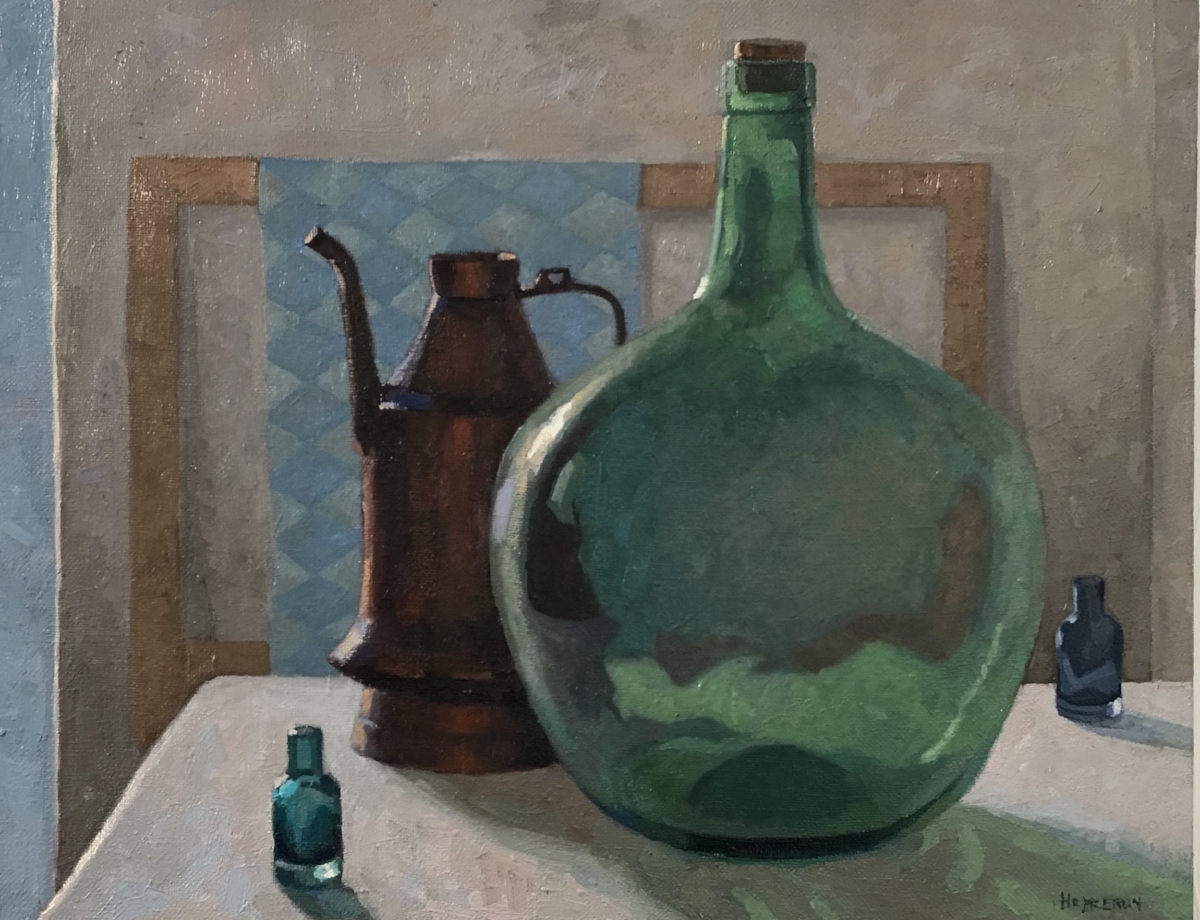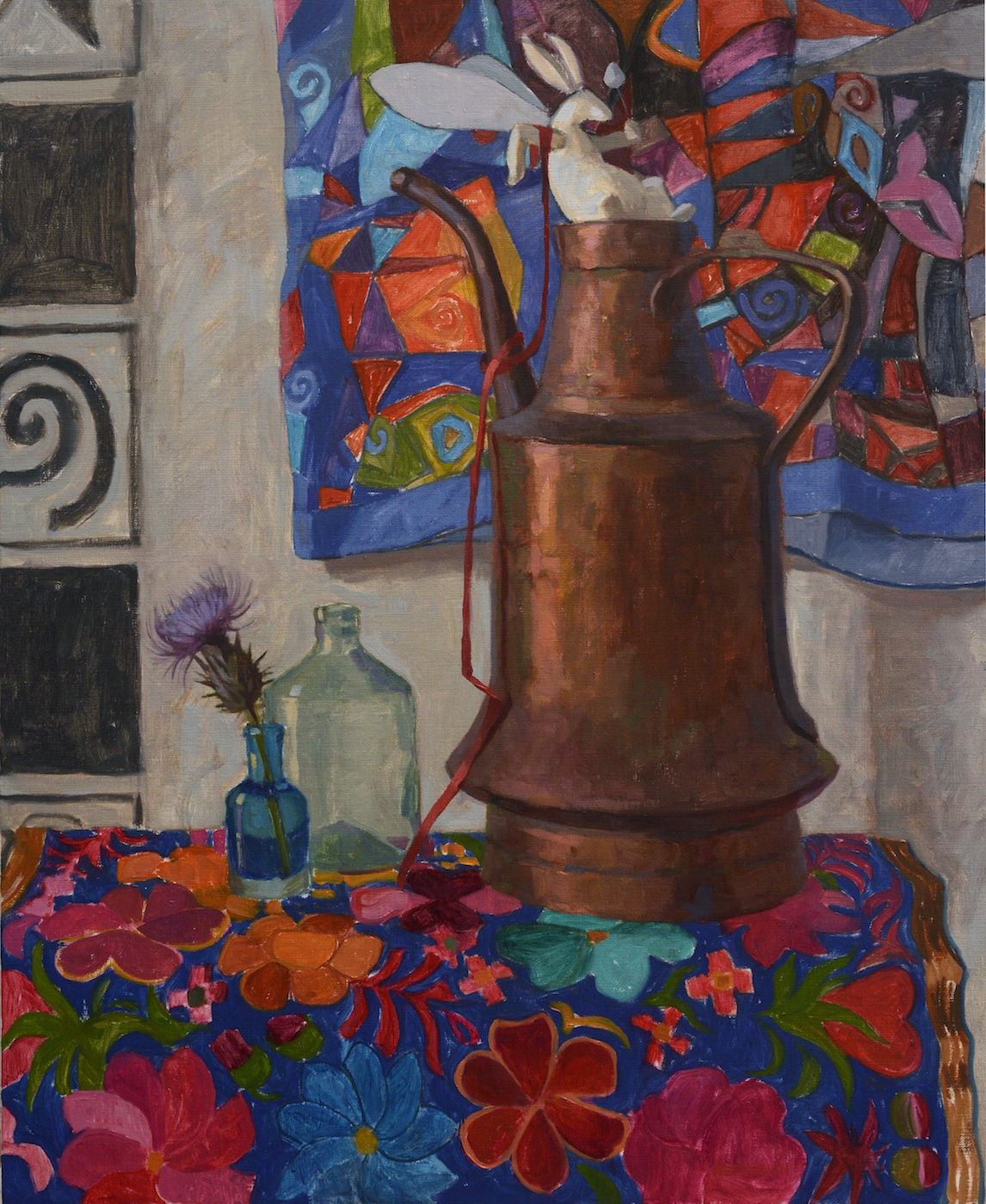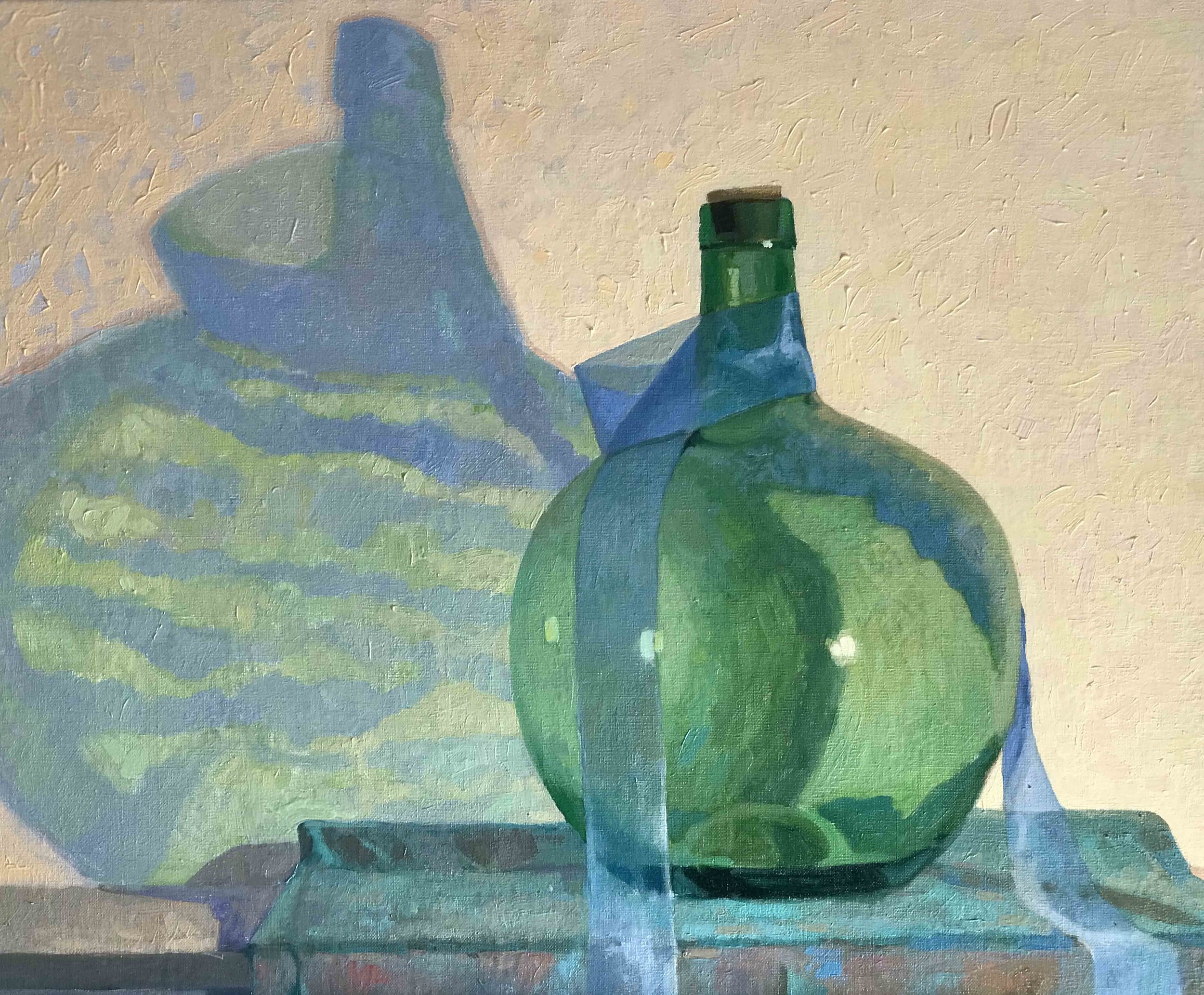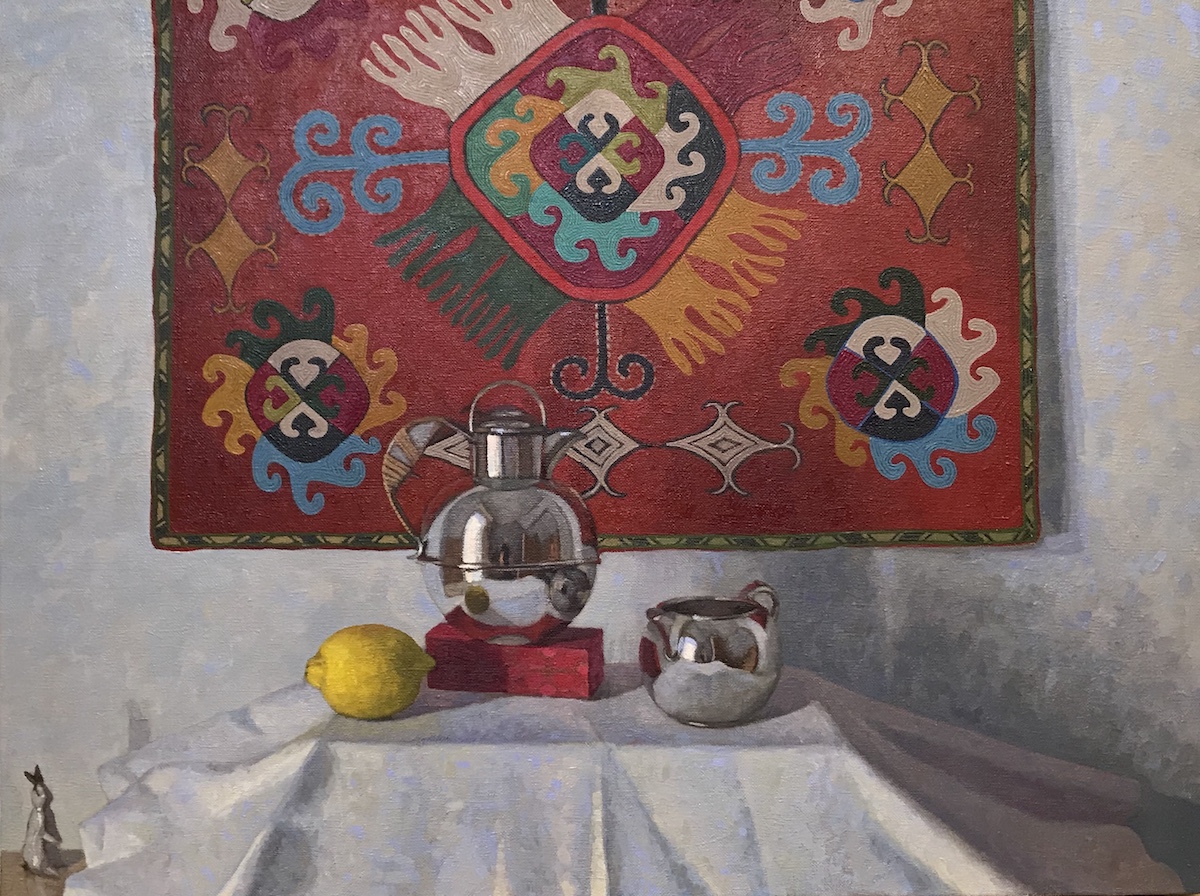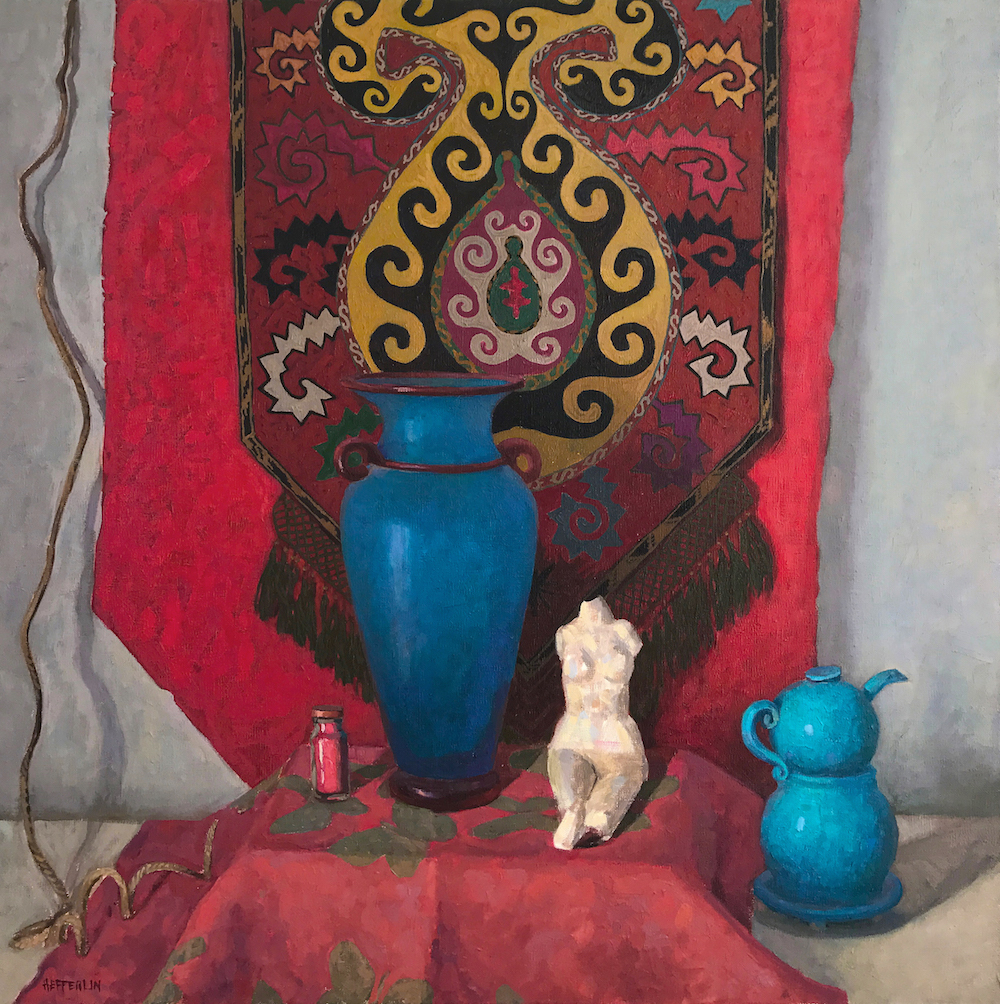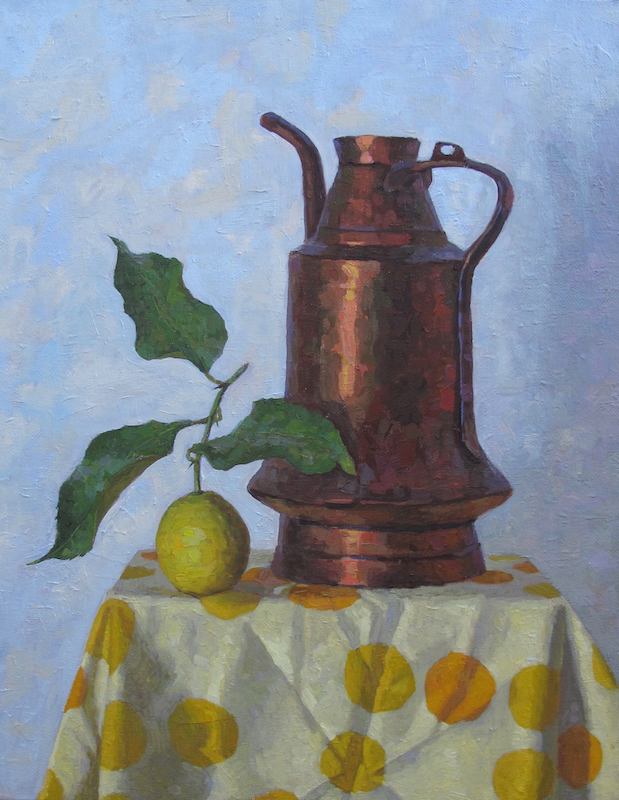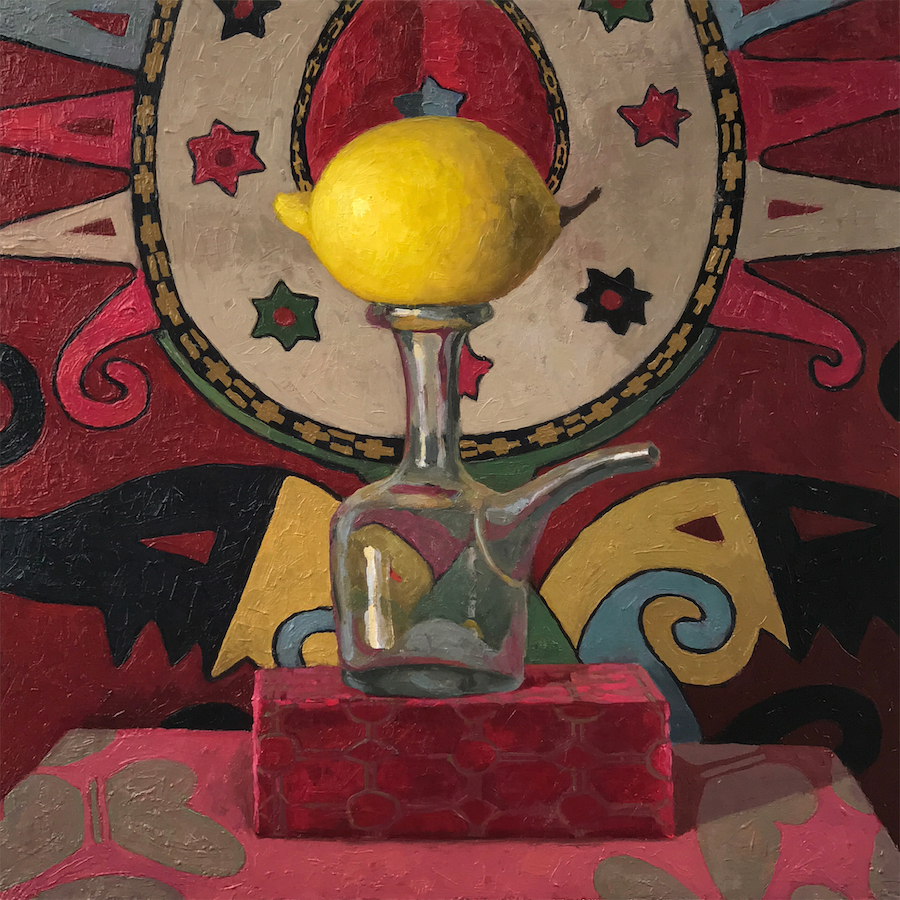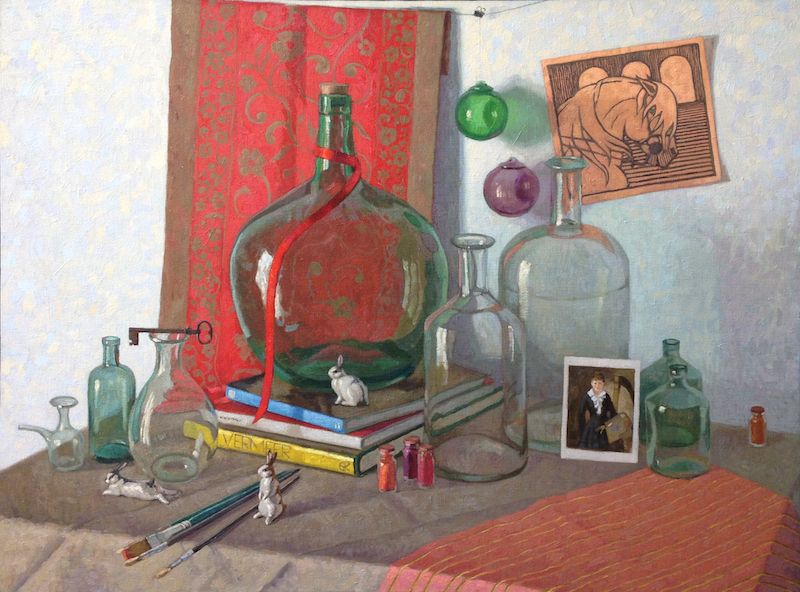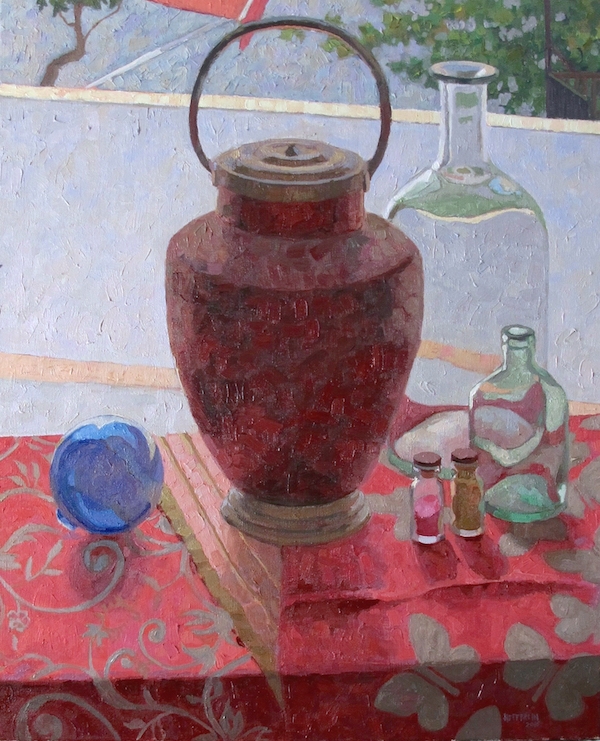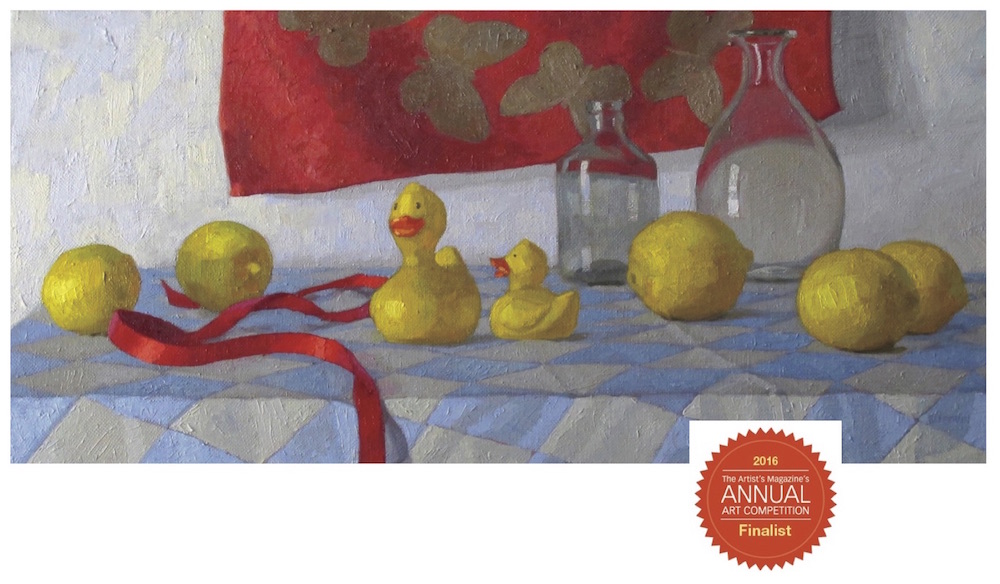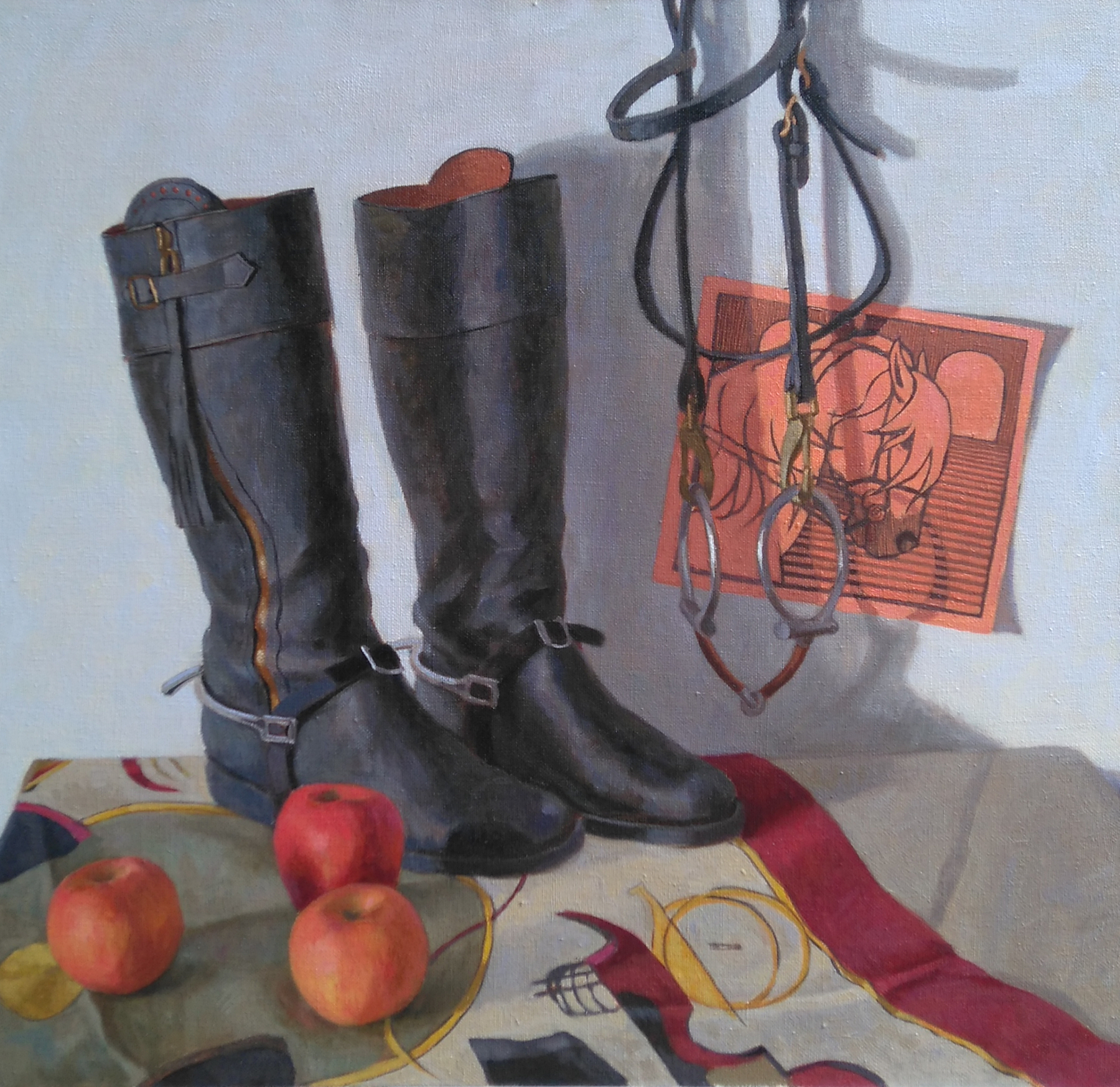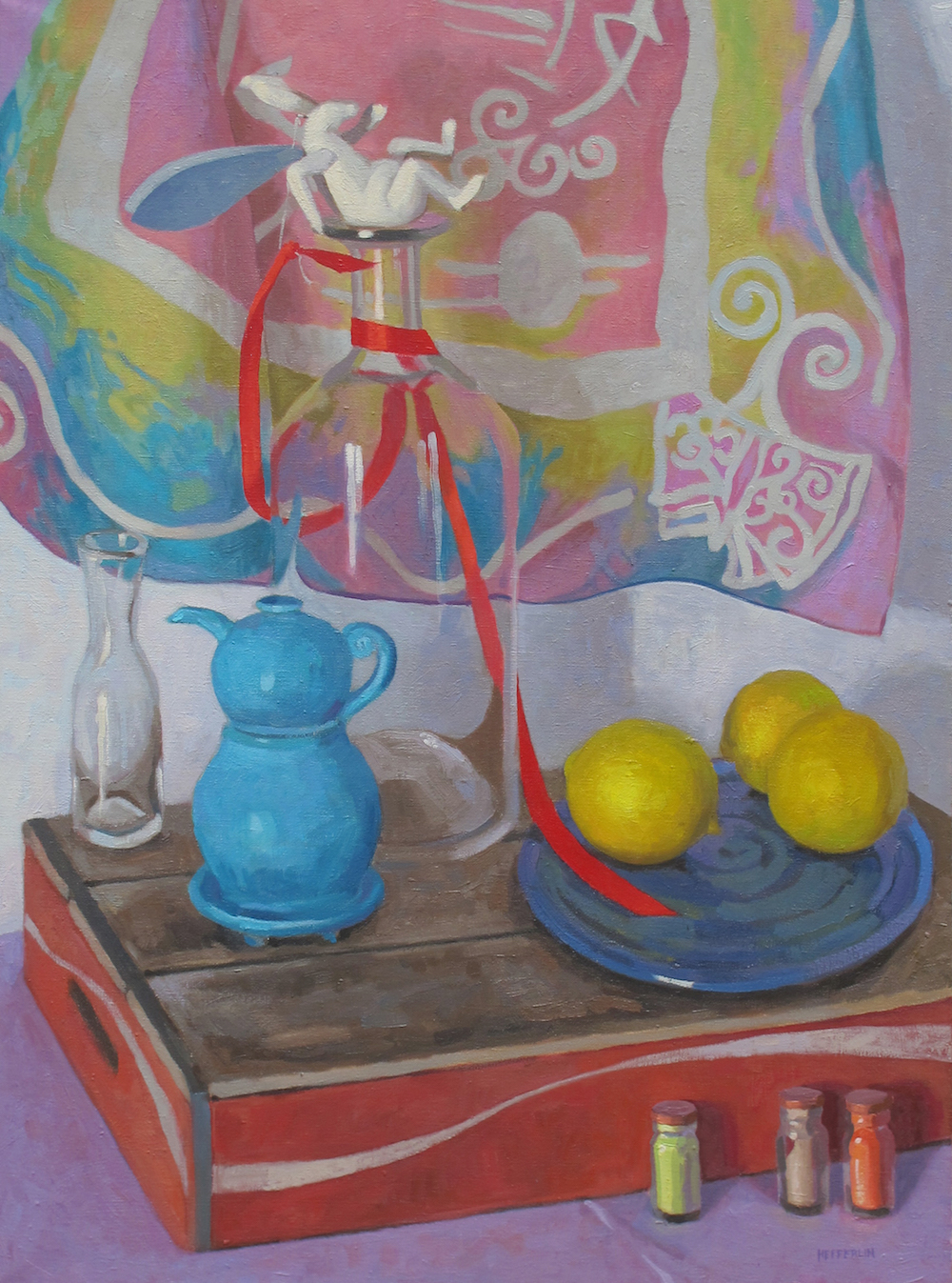 The Thinker
Oil on Linen / 24 x 20 in / 2019
I love putting avatars in my paintings—-little figures that can participate in the tableau in lieu of me or of someone else. This beautiful clay figurine is by Pavel Kudelich, an old friend /sculptor from St. Petersburg, Russia. I painted this in Russia, in an old communal studio apartment, with the snow falling outside the window.
Private Collection Napa Valley
Righteous
Oil on Linen / 32 x 21.4
One of my favorite "actors," this copper pitcher has been in my studio since my husband discovered it for me in the back of an antique shop in Arezzo, Italy. I love it's proud form, sturdy and tilted upwards. I placed it on a throne, an ideal of utility and beauty.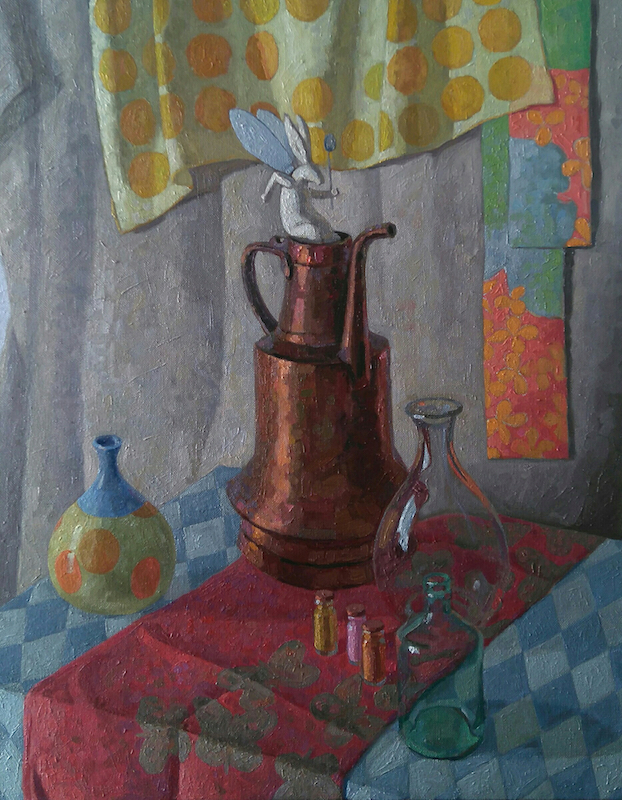 Copper Landing
Oil on Linen / 40 x 28 inches
The magic rabbit flies again. Imagining the rabbit as captain, leading a fleet of charmed objects into adventure.
Available at Cutter & Cutter Fine Art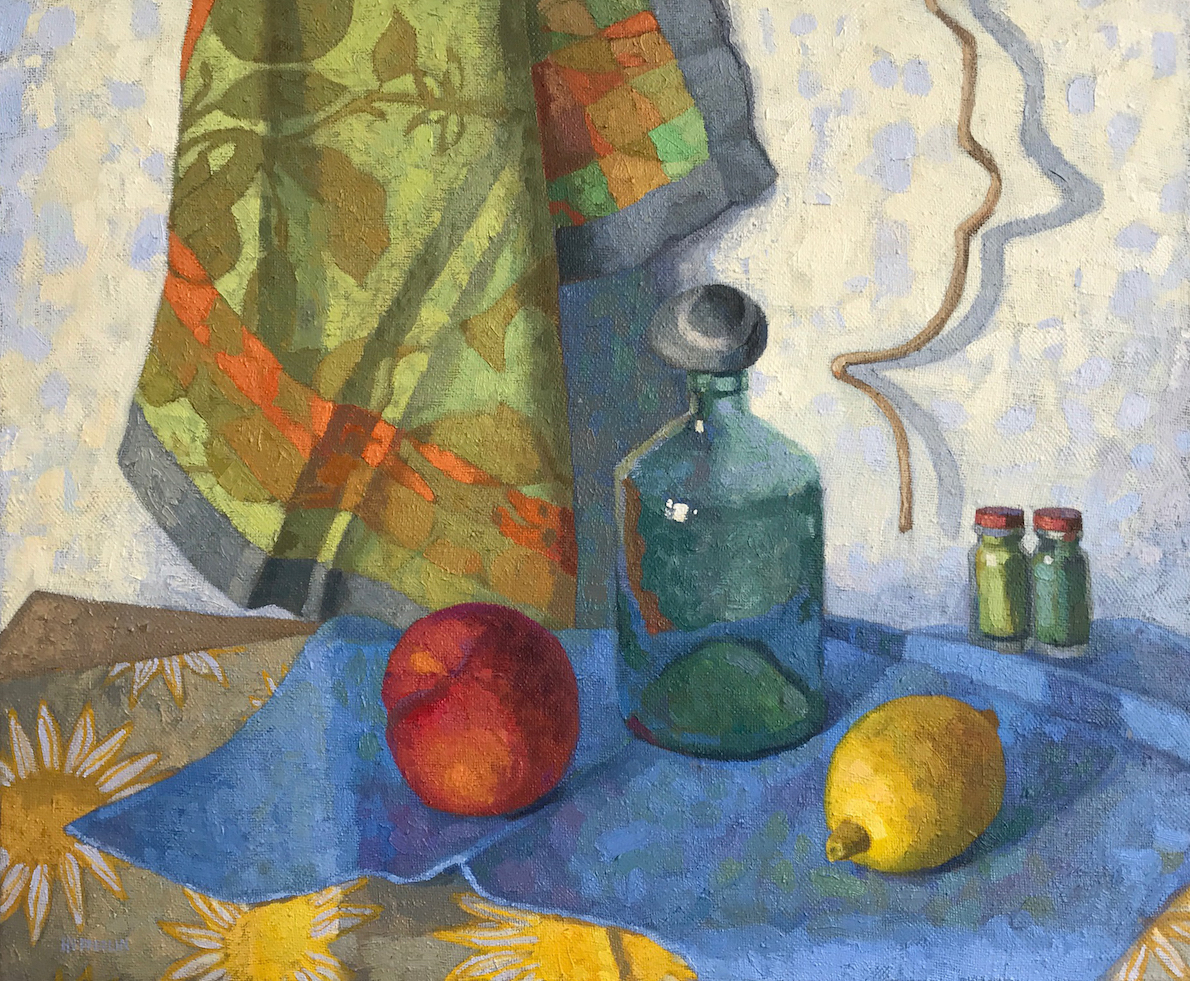 Still Life with Profile
Oil on Linen / 20 x 24 inches / 2017
An ode to the Andalusian summer of 2017 with a dangling piece of jute which formed a cartoonish shadow silhouette. I feel lucky when a still life pleases me visually and is also a little funny, or at least quirky. I love this quote, "A major criterion for judging the anxiety level of any society is the loss of its capacity to be playful."
― Edwin H. Friedman,
Available at Cutter & Cutter Fine Art
Journey of a Higher Hare
Oil on Linen / 36 x 29 in / Available
I was yearning for the colors of an Andalusian summer, and so was my friend the magical rabbit. Can you find my husband in this painting?
Available at Cutter & Cutter Fine Art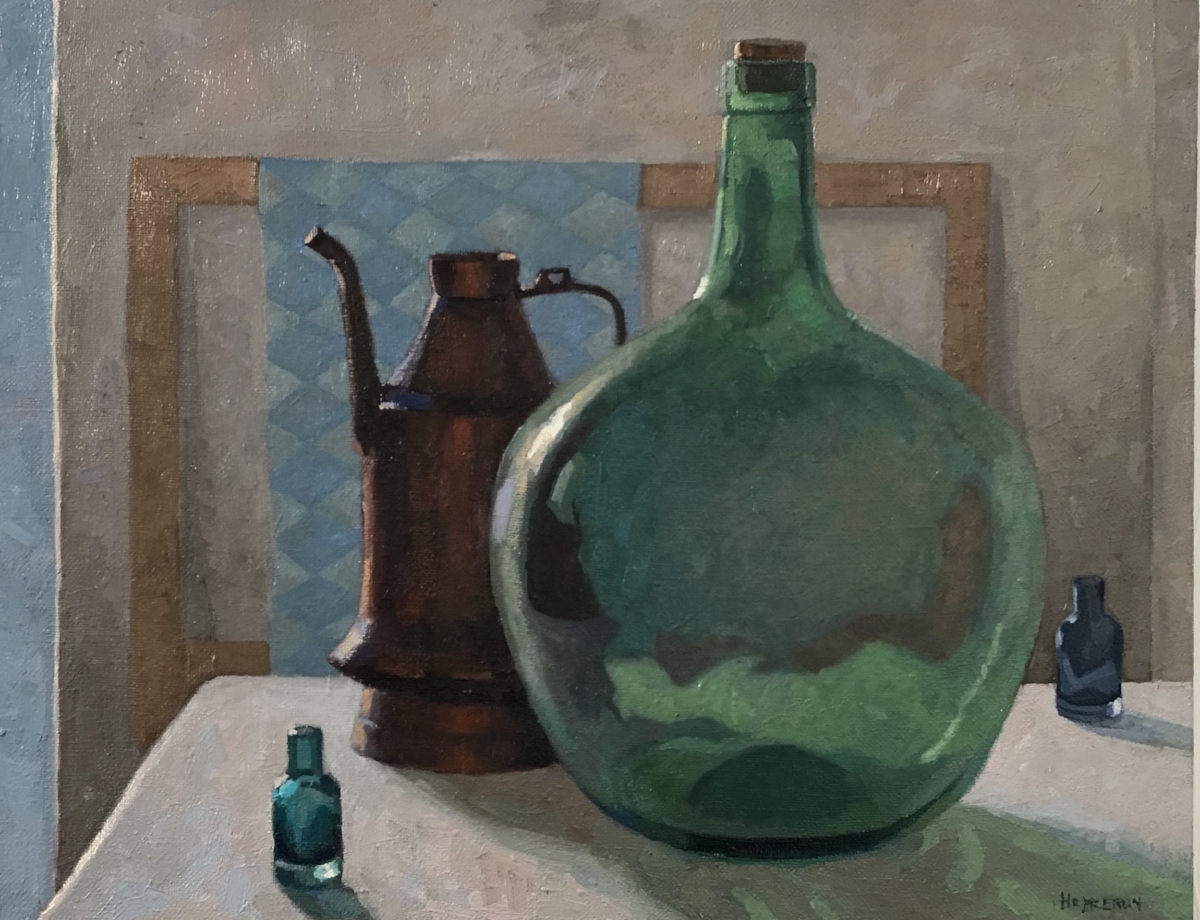 Against the Light
Oil on Linen / 2018
Many of my still life have highly-ornamental fabrics and bright colors. I wanted this one to be quieter.
Available
Spanish Rhythms
Oil / 30 x 15.75 in
Many of my still life with the rabbit, as well as those with pert pitcher snouts, have to do with gathering up and moving forward. Here, from the ornamental into simplicity. I titled the piece "Spanish Rhythms" because of the heavy and flounced long skirts some flamenco dancers wear. Imagine the teapot as the dancer, with the long train in a Spanish dance. The silks are designed by my husband, Daud Akhriev, for Serithea silk scarves. The teapot was a Japanese gift from a dear friend. The Spanish tile behind came from the construction of our Spanish studio.
Sold at Anderson Gallery of Fine Art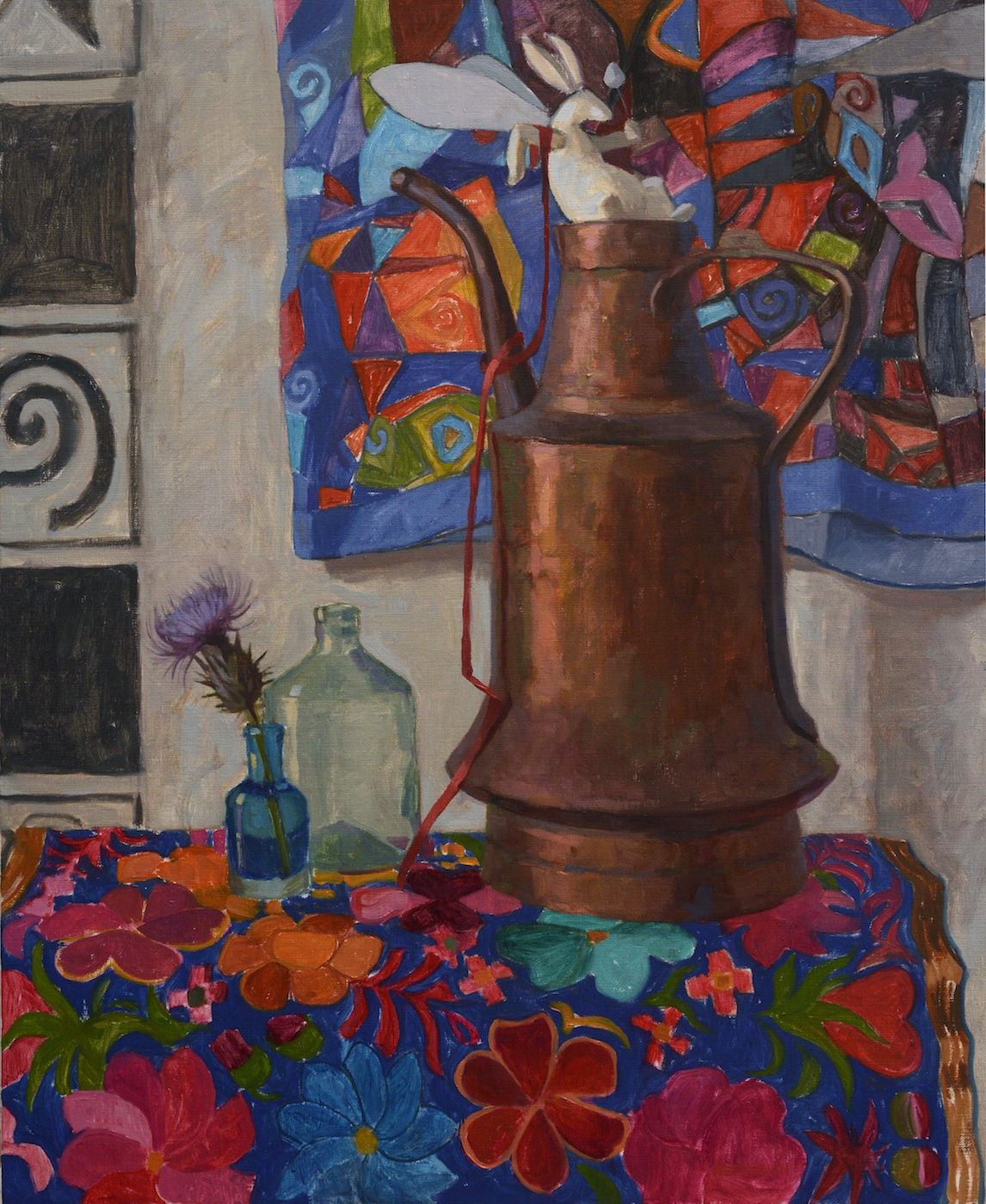 Thistle
Oil on Linen / 24 x 20 inches
My beloved winged rabbit returns in this cacophony of textiles. I think of the little rabbit as an intrepid adventurer, the Fool in tarot cards, who, having little importance with the personal number of zero, adds a ten-fold value to all he touches. Block-printed African fabric, Oaxaca tablecloth, silk scarf by Daud Akhriev for Serithea Silk Scarves. My favorite copper pot from Arezzo.
Private Collection, Tennessee
Cherries
Oil on Panel / 5.5 x 9.75 inches / 2018
Painting a tiny still life from time to time is a way to put some zen into your life. Cherry season in Andalucia, with one of my favorite little hand-blown bottles from Utah.
Private Collection, Switzerland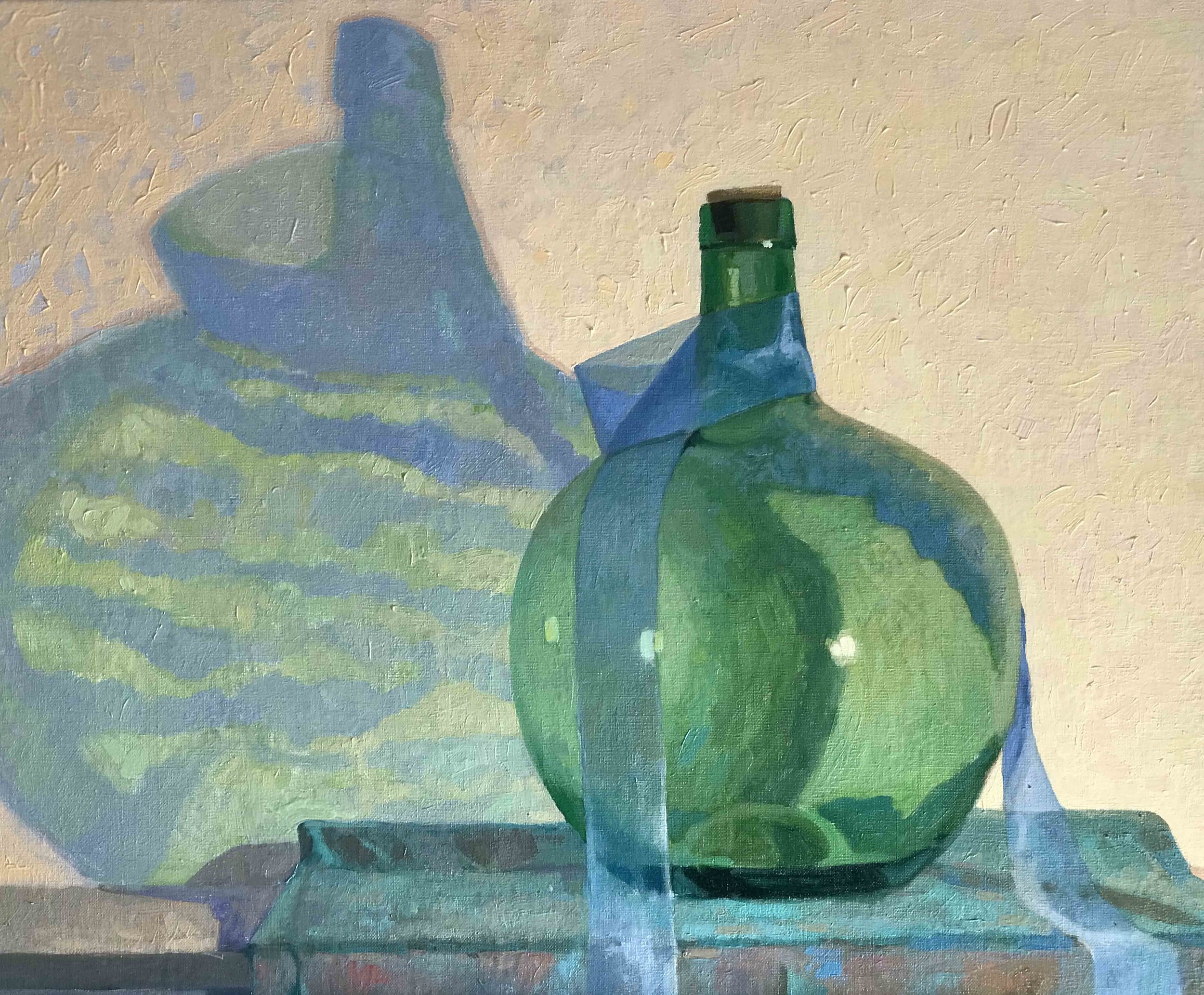 Transparency
Oil on Linen / 16 x 20 inches
A recent studio move changed my lighting situation. I've been using a little more electric light. Unchanged is my love for glass.
Available at Anderson Fine Art, St. Simon's Island, Georgia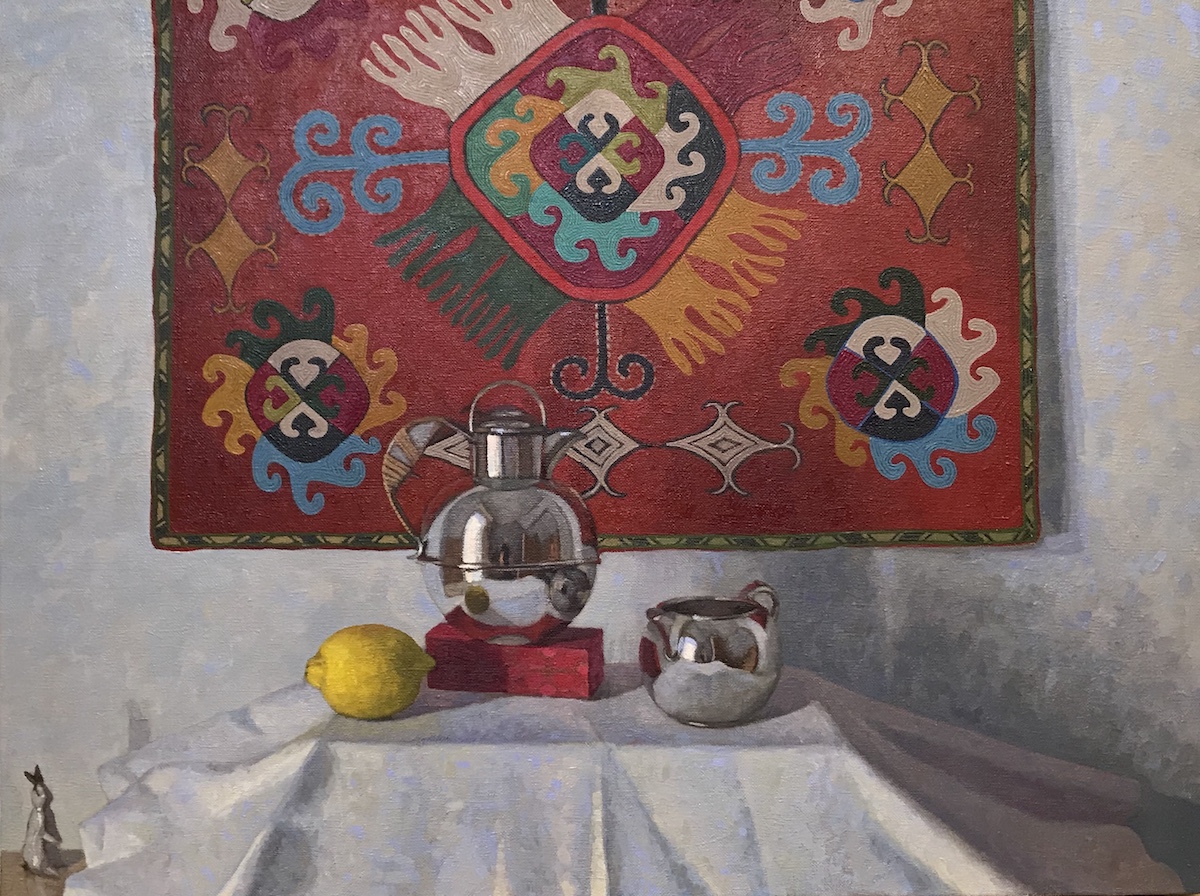 The Color of Time
Oil on Linen / 30 x 40
The Lakai fertility tapestries are so saturated and graphically interesting that I wanted the remainder of this composition to maintain tranquility. Silver, though technically reflecting everything, is somehow a peaceful material for me. And as always, I hunger for at least one small moment of humor in a still life, which was satisfied when the rabbit hopped into the bottom left corner.
SOLD at Anderson Fine Art Gallery, St. Simon's Island, Georgia
Showgirl
Oil on Board / 12 x 12 inches
It's been years since I painted using electric light, but my new Spanish studio is dark in the evenings. This little porcelain figurine, when set atop bright colors and converging lines seemed straight out of a lapine burlesque show. Silk scarf and tiny silk-and-bone treasure box are from my grandmother.
Available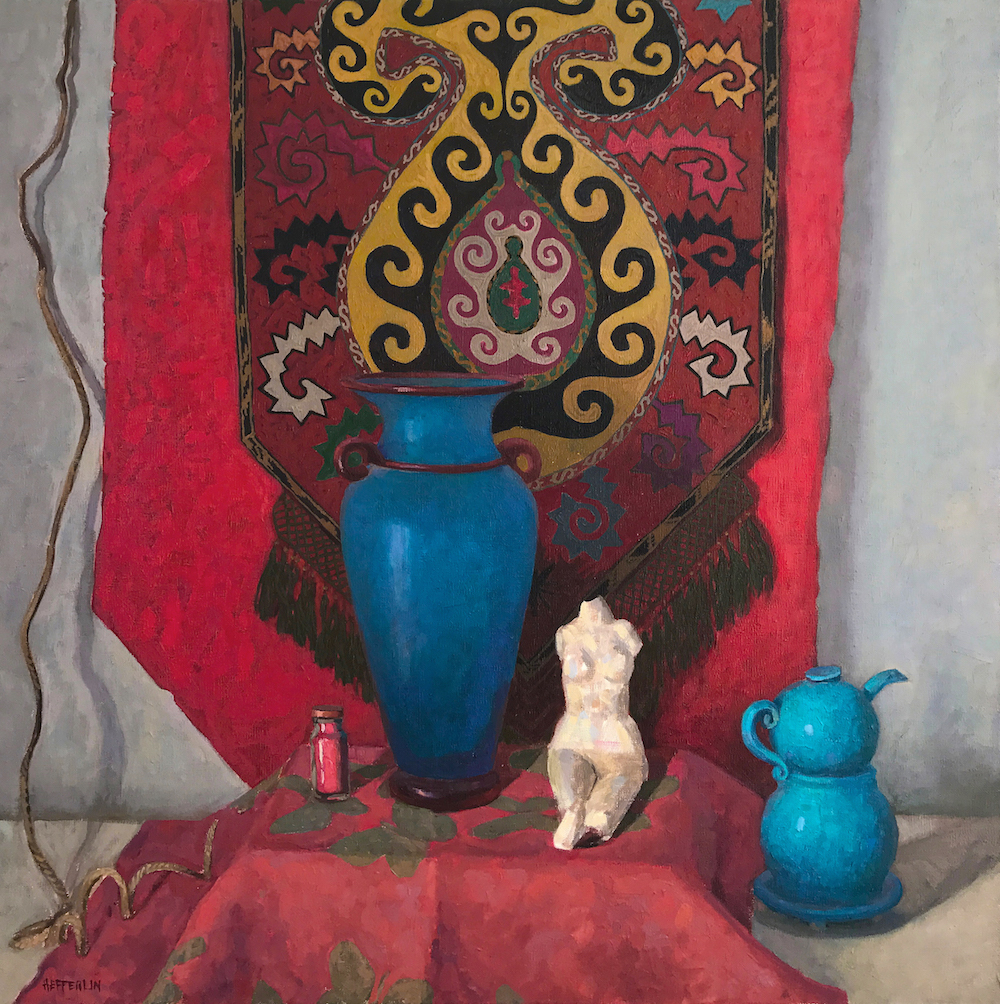 Talisman II
Oil on Linen / 30 x 30 inches
The Lakai silk-on-wool embroideries from Uzbekistan are fertility talismans, as well as exquisitely ornamental wall hangings. This one invited other objects from around the studio to assemble: a Murano vase bought 30 years ago, some Moroccan pigment, a Japanese teapot, some jute, and a somewhat Venus di Milo figurine.
Available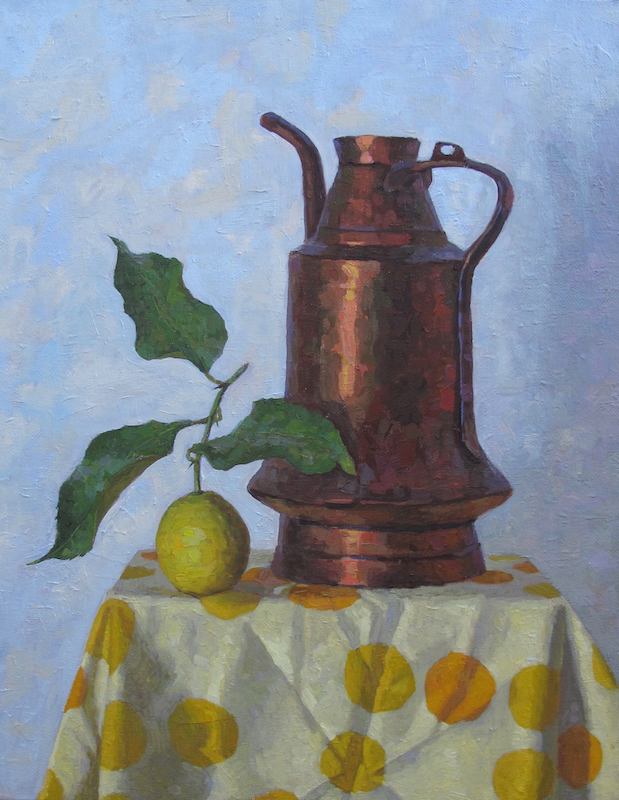 Windmill
Oil on Linen / 25.25 x 19.5 inches
I've loved the yellow silk scarf since I bought it in a yard sale in 1985. It stars in tens of my still lifes. When a neighbor let me cut lemons off his Olvera tree, I wondered could the two objects be beautiful together as a sort of visual humor? Yellow polka dots host a yellow fruit? For more drama I chose the dark copper watering can and strong sideways light.
Private Collection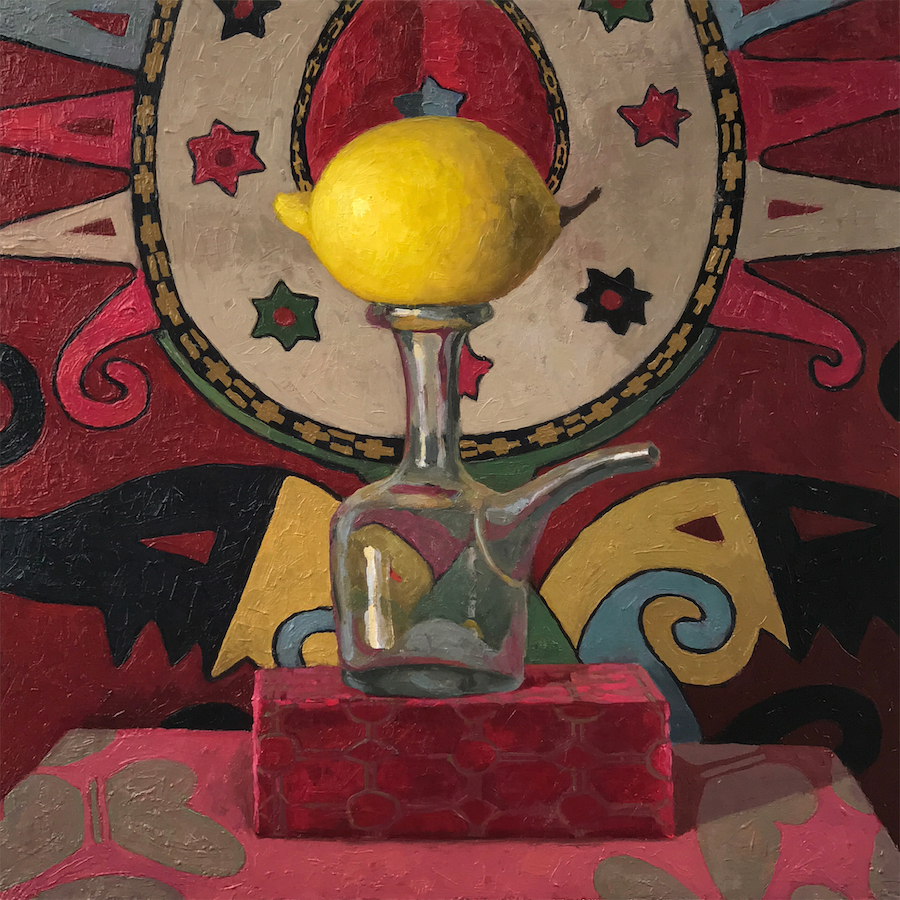 Talisman
Oil on Wood Panel / 12 x 12 inches / 2017
A stunning embroidery from Uzbekistan provided the foundation for this composition. For many years I've been organizing figures and still life against the white walls of my adopted "Pueblo Blanco" in Andalusia. This meditation in saturated color is a swing in a new direction.
Available at Anderson Fine Art Gallery, St. Simon's Island, Georgia
Reflections
Oil on Linen / 30 x 30 inches / Availabe
Having been thinking about still life as a symbolic expression of emotional states and beliefs, I decided to place an actual self-portrait into the tableau. Tranquility and contentment are the themes of the painting, expressed through blues and yellows and their neighboring colors. Glass objects represent permeable boundries, possibilities, beauty. Bronze horse by Elizabeth DeCosimo.
Cosimo's World
Oil on Belgian Linen / 2016
Visiting the Ufizzi in June, I fell totally in love with Bronzino. Seeing his paintings was a home-coming, back to when I first fell in love with making art. I especially responded to a portrait of baby Cosimo de Medici holding a very unlucky songbird. The postcard asked very politely if I would also put him in a painting with red velvet after I painted a portrait of Helene Hayman against a wall of red. It has been a season of cranberry, wine and crimson.
Available at Lovetts Gallery, Tulsa, Oklahoma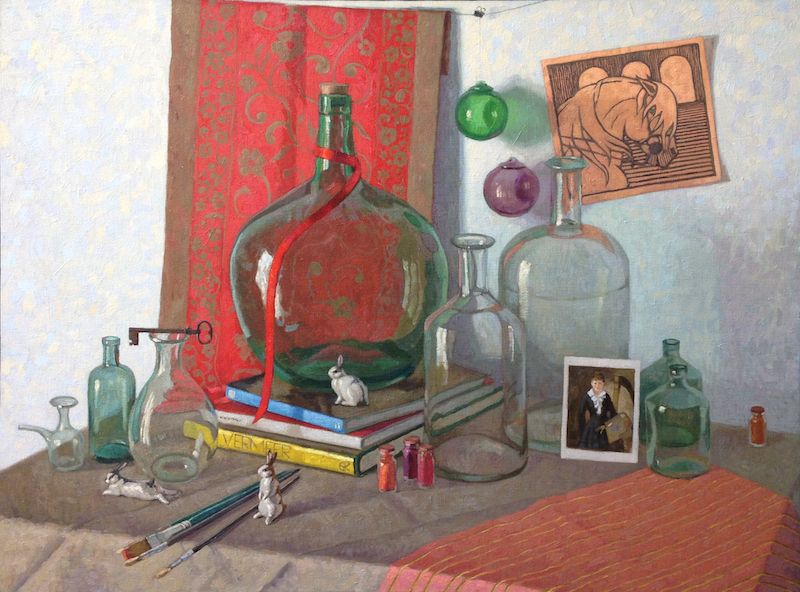 Rabbits' Reign
Oil on Linen / 36 x 48 inches / 2016
I listened to an audio recording of Watership Down while painting this still life, which gave a whole other significance to the rabbit figurines. Antique blown glass from Switzerland, Spain and Italy, with a tiny self-portrait by Berthe Morisot.
Sold at Anderson Fine Art Gallery, St. Simon's Island, Georgia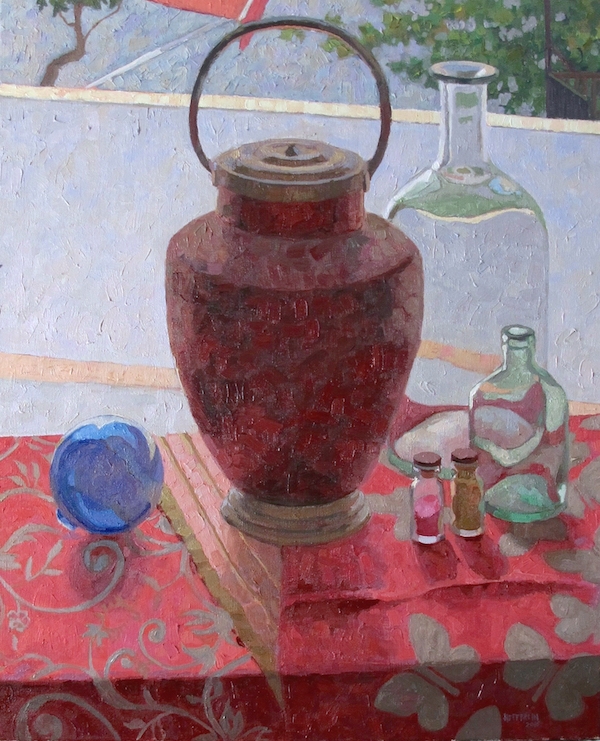 In the Window
Oil on linen / 24 x 19.5 inches
A friend in Italy loaned me one of his grandmother's two copper water vessels, with which he went to the spring for water when he was a boy. The damasks I also bought near his town, Anghiari.
Juried into the Oil Painters of America 2017 Eastern Regionals Exhibition.
Available
Green
Oil on Belgian Linen / 40 x 32 inches
Fascinated by glass, I picked up this enormous wine bottle in a junk yard near Modena, Italy. It is hand blown. I wanted the bottle to be the star of the show, so kept the composition pretty simple. Chair hand-made in Morocco, aged on my roof.
Available at Anderson Fine Art Gallery, St. Simon's Island, Georgia
The Winged Rabbit's Landing
Oil on Linen / 15 in x 18 inches
Collection of David and Natalie Dewhirst
In the Balance
Oil on Linen / 32 in x 21.25 in
My Spanish cobbler collects antique tools. This hand-forged jamon scales stole my heart.
Available
 
On a Rabbit's Wings
Oil on Linen / 24 x 32 inches
My favorite toy is a carved folk rabbit with wings and a magic egg-wand. Here he flies in a still life for the second time. The tiny, hand-blown vessel on the right is an antique vinegar pitcher from Toledo. I was experimenting with composition by placing fiery red at two edges.

Private Collection Indiana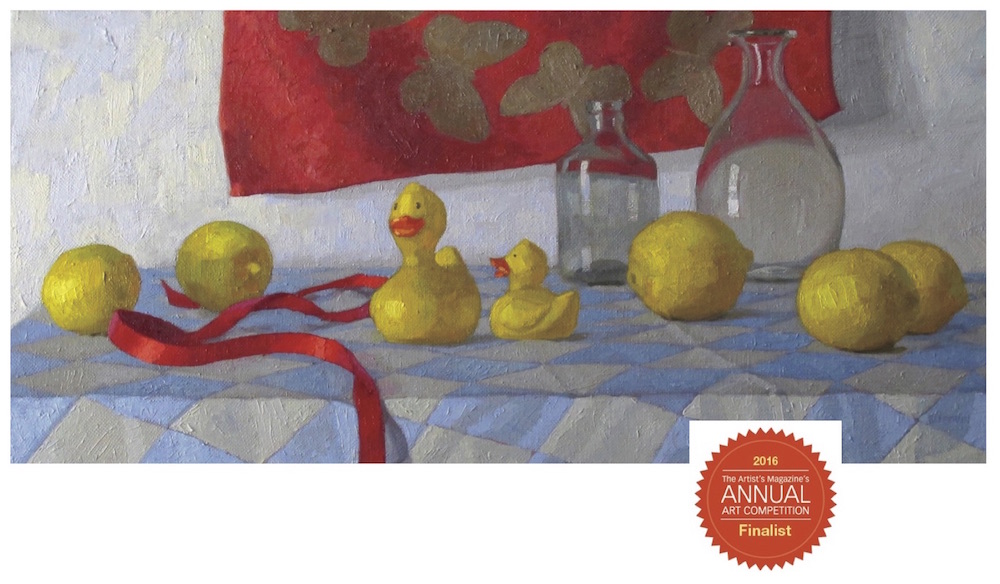 An Adoption
Oil on Linen / 13.5 x 29.5 inches
There is a lemon tree in the patio at my husband's studio. When the citrus began falling, fat and yellow, off the tree, they reminded me of our bath ducks, and of the ugly duckling fable. Of course, there had to be butterflies, too.
Private Collection, Tennessee
A Ribbon Runs Through It
Oil on Linen / 60 x 39.5 inches
One of my painting teacher told me a story about William Merritt Chase, who when posing portrait models, allegedly insisted that they leave the room, and then return with purposeful strides to their position. The reason for this was to have the folds of the dresses describe the motion of the model. I was thinking about that legend while I set up this still life, and wanted to have the drapery insinuate the sway of a skirt.
Available
Autumn
Oil on Linen / 20 x 24 inches
Last year we spent a couple of weeks painting at the home of a loved one in Switzerland. It's one of the most peaceful spots on earth. I wanted to put in the still life those days' experience of tranquility, friendship, beautiful dinners and bird songs. I especially like the chestnuts.
Available at Cutter & Cutter Fine Art
Sunday Best
Oil on Linen / 30 x 24 inches
Surrounded by sumptuous silks and dressed in clean-cut stripes, this tableau reminded me of the going-to-church rituals of my childhood. I've had both these silk scarves since high school, and they appear regularly in my paintings.
Available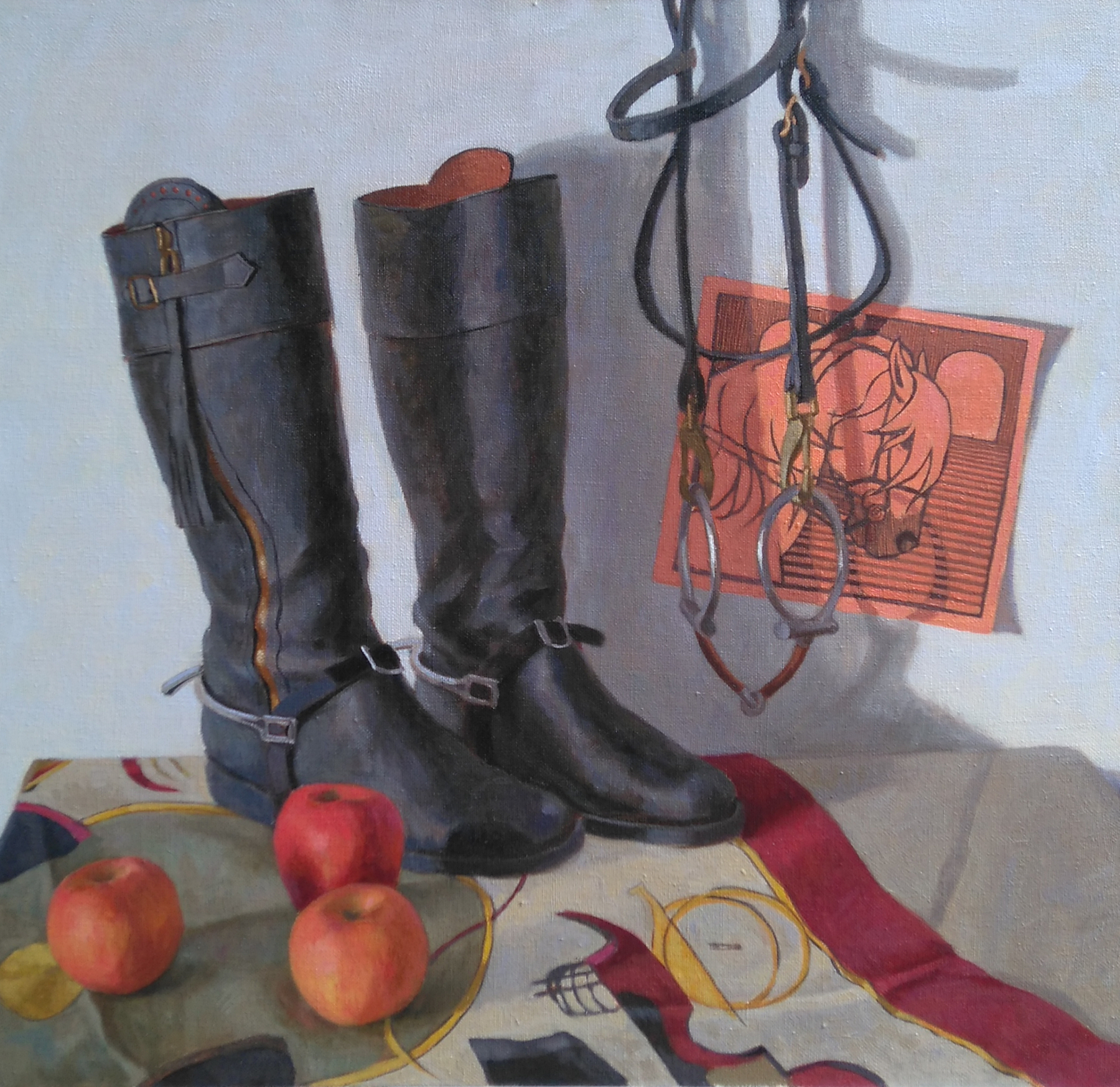 Bridles and Spurs
Oil on Linen / 30 x 30 inches
The summer of 2015 was dedicated to painting equestrian-themed paintings. Here for the rider I placed good boots (of Spanish leather), an English bridle and my grandmother's antique Hermes scarf with coaches. For the horse I put a linoleum print of an Andalusian, and three juicy apples.
Collection of Jennifer and Phil Lawrence
Oaxaca
Oil / 16 x 20
Available
The exuberance of this embroidered runner from Oaxaca filled my studio with dreams of the exotic. I love how the silver almost disappeared in the fecundity of the flowered fabric.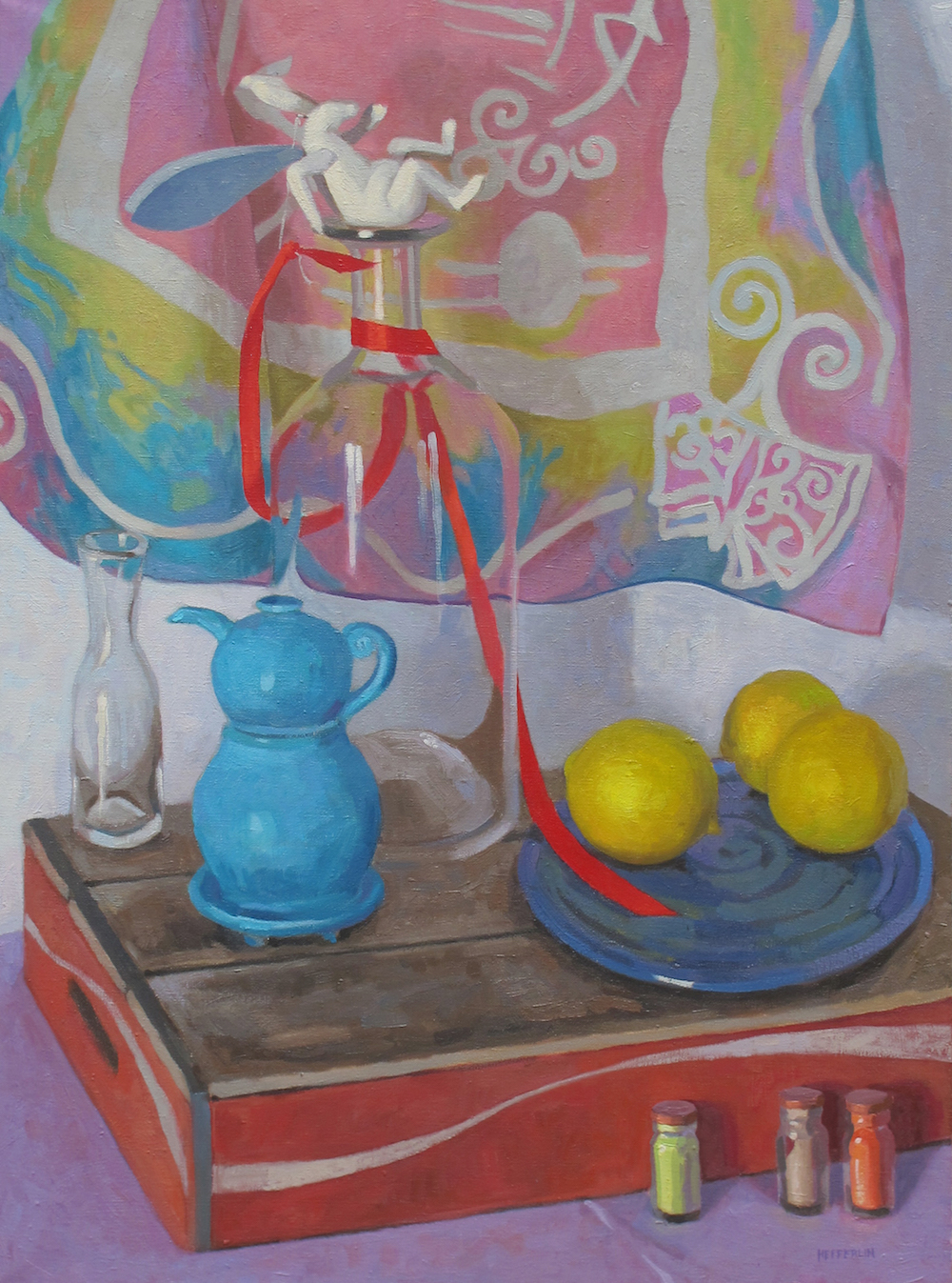 Rabbit's Three Desires
Oil on Linen / 32 x 24 inches
Over the last three years the flying rabbit has been a frequent actor on my still life stage. According to Native American folklore, the rabbit is a prey animal and is a signifier of the need to face fears: do you run? do you freeze? do you hide in the brambles? A rabbit with wings has yet another option: to soar.
Private Collection, Tennessee
First Camelia
Oil on Board / 13.8 x 9 inches
From the gardens of a dear friend in Switzerland, the first February blossoms in the winter sun.
Available at Cutter & Cutter Fine Art